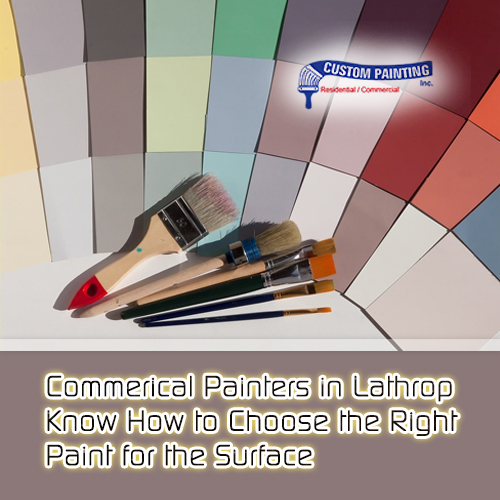 One of the benefits of hiring the best commercial painters in Lathrop is obviously their expertise. These professional painters are well trained in every aspect of their profession. They also know which types of paints and coatings to apply on a certain type of surface.
Of course, commercial painters also know all too well that proper cleaning and preparation of the surface will allow paints to coat well on the surface. The combination of the proper prep work and the right kind of paints will lead to an excellent finish.
Bare wood
Use a very fine sandpaper to smoothen the surface. Once completely smooth and level, remove the fine dust with a tack rag. Next, apply a stain-blocking primer on it. After priming, apply a latex or an oil-based paint.
Brick
Masonry such as brick may be time-consuming. A wire brush is the only effective tool to thoroughly remove dirt, dust, grime, soot as well as efflorescence or "chalking." Brush them off in a gentle manner so as not to scrape out the mortar. Scrub the surface with soapy water and rinse thoroughly. Let it dry for 48 hours.
A quality latex primer should sufficiently coat the surface. However, an elastomeric paint is more recommended as it is specifically formulated for coating masonry. An elastomeric paint is formulated to close off the cracks, holes and gaps on the surface. It also creates a barrier to prevent moisture from entering the brick (since it has a porous surface), but it also allows the brick to "breathe" as to let the moisture to escape in the form of vapor.
Ceramic tile or porcelain
Using a 150-grit sandpaper, sand the surface – this will improve the adhesion of paint onto it. Next, clean the surface with TSP (trisodium phosphate) or any non-residue cleaner.
The ideal coatings for ceramic tile or porcelain is a fine-quality acrylic primer, and then an interior paint with a semi-gloss finish. Painting the grout with a contrasting color is a good idea, but you should do so with a steady hand.
Concrete
Remove dirt, grime, soot, and excessive mortar from the surface using a wire brush. Clean the surface with a TSP solution (or any non-residue cleaner). Rinse it completely and let it dry for 48 hours.
When painting concrete, an elastomeric paint is a good choice. Another alternative: since concrete is porous, apply it with a masonry sealer to close off the gaps, cracks and holes. Let it dry completely. Once dried, apply an acrylic primer before painting it with a good quality acrylic latex paint.
Drywall
If the drywall is new, make sure that it is free of dust by removing it with a damp rag. If the drywall has been previously painted, remove any loose paint if you find any. If there are cracks, holes and other surface imperfections, fill them with a spackling compound and let it dry. A good quality acrylic latex primer is recommended for this type of surface.
Metal
Remove dirt, loose paint or rust using a wire brush. Then smoothen it with a 220-grit sandpaper. Use plain water to wash it off and let it dry. (no need to clean it with soap)
Let it dry. Next, apply an exterior primer and topcoat it with a paint which is specifically made for metals.
Painted or sealed wood
First, clean the surface. A wet rag will do, but you can also use TSP (or any other non-residual cleaner) for surfaces with stubborn dirt, marks, etc. Smoothen the surface with sandpaper until completely level. A quality latex paint is a good choice for a topcoat.
If you plan to have your business painted but are not sure which types of paints to use, do not hesitate to ask the best commercial painters in Lathrop. They are ready to give you the best advice regarding the right paints for surfaces, as well as the best paint finishes and colors.