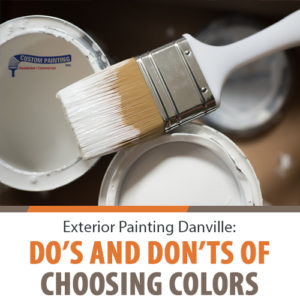 Exterior painting is in Danville is not only about dabbing a new coat of paint to the surface. To get the desired paint finish, the surface has to be cleaned, repaired (if there is any damage), and primed first. Preparing the surface for painting is a lot of work already. It also requires hours of waiting in between preparation steps (depending on how big the building is) to get the surface completely dried before applying paint to it.
Then there's also choosing the right colors for exterior surfaces. While there are no hard-and-fast rules for this, there are a number of things you should consider before making a final decision. (Don't end up regretting the color scheme you've chosen!)
Do's:
1) Consider colors
Neutrals will always be a safe bet. They are versatile and relatively easy on the budget. Many homeowners worry that choosing other colors would hurt their wallet. But fortunately, that's not the case! With a little imagination, creating a unique color scheme won't stress you (or your wallet) more than choosing neutrals would. Besides, it will bring an element of whimsy and fun to your home's overall look.
2) Add accents
Paint the trims and architectural details of your home with an accent color that contrasts with the rest of your house. It will highlight these little details that you might have failed to notice before. These contrasting accent colors will also add charm and character to your home. Feel free to express your preference and passion for color on these little details of your home to make an impact. Make sure, though, to create a palette of pleasing colors that will work together.
3) Consider trends
White and other neutrals are a "safe" bet, but a growing number of homeowners are experimenting with various color combinations in paints and tinted neutrals. So, why not follow the trend, too? Take a walk around your neighborhood to get a sense of which color schemes other people have chosen for their homes. Granted, you don't have to choose the exact same combinations as your neighbors, but it may spark some ideas you'll want to try.
4) Try professionally applied color palettes
If you're still in doubt, go to professionals. Thanks to modern technology, those experts are readily accessible (assuming you are reading this article from a computer or a phone). A quick search on Google or Yahoo can yield hundreds or even thousands of images from which you can derive inspiration for your next home makeover. Your local paint shop or home improvement store will offer various catalogues of color combinations. When you need help, talk to a salesclerk or store manager selling you some weather-resistant paints; they are likely to advise you on paint colors, as well.
Don'ts:
1) Be an eyesore to your neighbors
Unless you're living in deep isolation, don't choose colors that would make your house an eyesore to your neighborhood. The colors that you choose may reflect your personal taste and style, but do consider your neighbors, too. It's possible that you are attracted to bright, vivid colors that may proudly make a statement of your home. However, clashing with your neighbors' houses is not always a good idea. Your house can still stand out without the harsh, loud colors to the siding – consider the No. 2 rule in the "Do's" section.
2) Ignore the surrounding landscape
Another important factor to consider is the landscaping surrounding your house. Maximize your house's curb appeal by choosing colors that will help make it stand out in its immediate environment. Dark greens will get lost in a heavily wooded lot, while bright colors will make the house look "washed out" in a sparse area.
3) Paint the unsightly details of your house
Accenting is great, but only to highlight the more attractive architectural features of your house. Avoid the drab ones such as gutters, pipes, air conditioning units, or even irregularly placed trim.
Try painting a small amount of your main, trim, and accent paint color choices on an obscure part of your house. That way, you will get a sense whether your choice color scheme will work together or if you should try a new scheme.