Maintaining the cleanliness and appearance of business properties is indeed important. It's because a well-maintained space not only looks good but also creates a healthier and safer atmosphere for tenants and guests. That is why Custom Painting, Inc. offers commercial pressure washing services. We have a team of professionals who can give your commercial property a facelift and make it look brand new.
When it comes to pressure washing services in Pleasanton, CA, our company is among the best ones. We are committed to excellence, and our skilled pros have years of experience and use cutting-edge equipment. They have the skills and knowledge to produce excellent results, whether you want to refurbish the exterior of your building or simply keep your commercial space clean.
Read on to learn more about our pressure washing services and why Custom Painting, Inc. is the best option for maintaining your property.
Our Pressure-Washing Services
Pressure washing is an effective way to clean almost any hard surface made of concrete, tile, or brick. It uses high-pressurized water jets to remove dirt, dust, grime, mud, stains, and mold on surfaces. Our commercial pressure washing services can assist business owners in removing stuck-on filth that can accumulate on a building's exterior over time. Through commercial pressure washing, a lot of business owners find that they can make the exterior of their building or property look new again.
You can hire our pressure washing services to clean your:
Building exteriors
Building interiors
Sidewalks
Walkways
Parking lots
Pool areas
Dumpsters and dumpster pads
And more
When you choose our pressure washing services, we will ensure the following:
Use of the right equipment: The type of pressure washers, surface cleaners, wands, lifts, or booms all have a significant impact on the effectiveness and safety of the cleaning process. Our company always considers important factors, such as the type of building, the type of contaminants, and the experience of the operator when using equipment for pressure washing and other tasks.
Use of the right chemicals: A pressure washing task will be successful with the right types of chemicals and proper mixing or dilution ratios. That is why our professionals at Custom Painting, Inc. ensure that they follow proper precautions when handling and using chemicals for pressure washing. This helps prevent injury to technicians and bystanders around the area.
Following Safety Guidelines: Proper use of commercial pressure washing equipment is important to ensure the safety of everyone during the project. Aside from that, our experts also ensure that they follow safety guidelines, use appropriate protective gear, and follow the instructions from the manufacturer for safe operation.
Our pressure washing services are effective, safe, and can provide the maximum benefits for your building or property.
Benefits of Pressure Washing to Your Commercial Property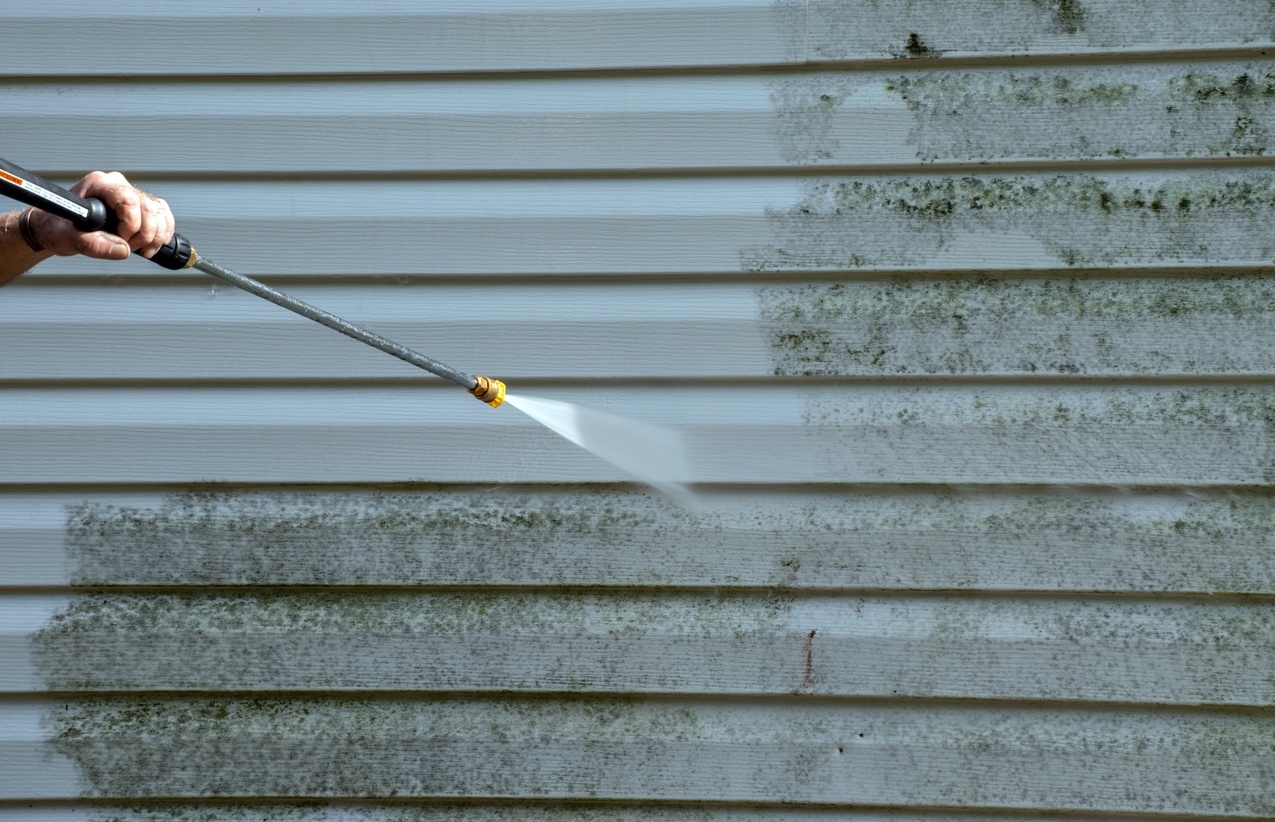 If you own a building or commercial property, commercial pressure washing has a lot of benefits to offer that make it a service worth considering. If you are wondering what these benefits are, below are some of them:
Boosts your commercial building's curb appeal.
The way your commercial property looks from the outside can influence how many customers will decide to walk through your doors. Curb appeal is something that every business owner should improve. Therefore, don't let dirt, mold, and other forms of debris on the exterior walls ruin the curb appeal of your building. If you want to make your commercial space look inviting and welcoming, regular cleaning, such as pressure washing, is key.
Improves the maintenance of your building.
If the exterior surfaces of your building are not cleaned regularly, mold and mildew growth can collect on them, making them unattractive. Aside from that, these may also lead to costly damages in the long run. Note that mold and mildew produce acids that can degrade concrete. This means that over time, the strength, and integrity of your commercial space can be compromised along with its appearance. Therefore, regular concrete cleaning through pressure washing is a solution to prevent expensive repairs.
 Gives your commercial property a high value.
When your building is attractive and well-kept, it will have a higher market value compared to properties that are not well-taken care of. Properties that have not experienced structural damage due to mold, mildew, and other surface debris will maintain their long-term value. Therefore, if you'd also like to keep the value of your business property as high as possible, keeping it clean with regular pressure washing is one of the best ways.
 Helps you save time and money.
Taking the time to pressure wash your building before it gets dingy can make the process less time-consuming and more economical. Therefore, make regular cleaning a part of maintaining your business and building.
Hiring professional pressure washing services can help you reduce the overall maintenance and repair costs, which can also help you save money in the long run. When you have your building pressure washed regularly, you will find it exposed to fewer contaminants, which means lower maintenance costs and less time spent dealing with those issues.
Helps maintain a healthy environment.
Working environments affect people's health. Therefore, when mold, mildew, moss, and other debris accumulate on a property, they create unhygienic conditions for the tenants or employees. If these are not removed, these contaminants can interfere with the air quality in your business space, resulting in allergies and other health issues. If you want to eradicate these contaminants at an affordable cost, Custom Painting, Inc.'s pressure washing services can help you.
Choose Custom Painting, Inc. for Your Pressure Washing Needs
If you think that your business property or building needs cleaning due to the accumulation of dirt, grime, mold, and mildew on its exterior surfaces, our pressure washing services can help you. Custom Painting, Inc. has a team of experts who are highly skilled and trained when it comes to commercial pressure washing. We only use high-quality equipment and products to clean commercial properties thoroughly. We also ensure that we follow safety procedures when working in commercial spaces to keep everyone safe and avoid any accidents.
Contact Custom Painting, Inc. if you need pressure washing services and painting services for your commercial properties. You may reach us by calling (925) 294-8062. You may also fill out this form to set a schedule and receive a free estimate for any residential or commercial service that you need.