Wallpaper is a popular choice for interior decor. With its distinct patterns and textures, wallpaper can add character and style to any room, transforming it into a work of art. However, when the time comes for a change, the task of wallpaper removal can seem daunting. For those seeking a fresh canvas to transform their living spaces, Custom Painting, Inc. can make this process hassle-free and efficient.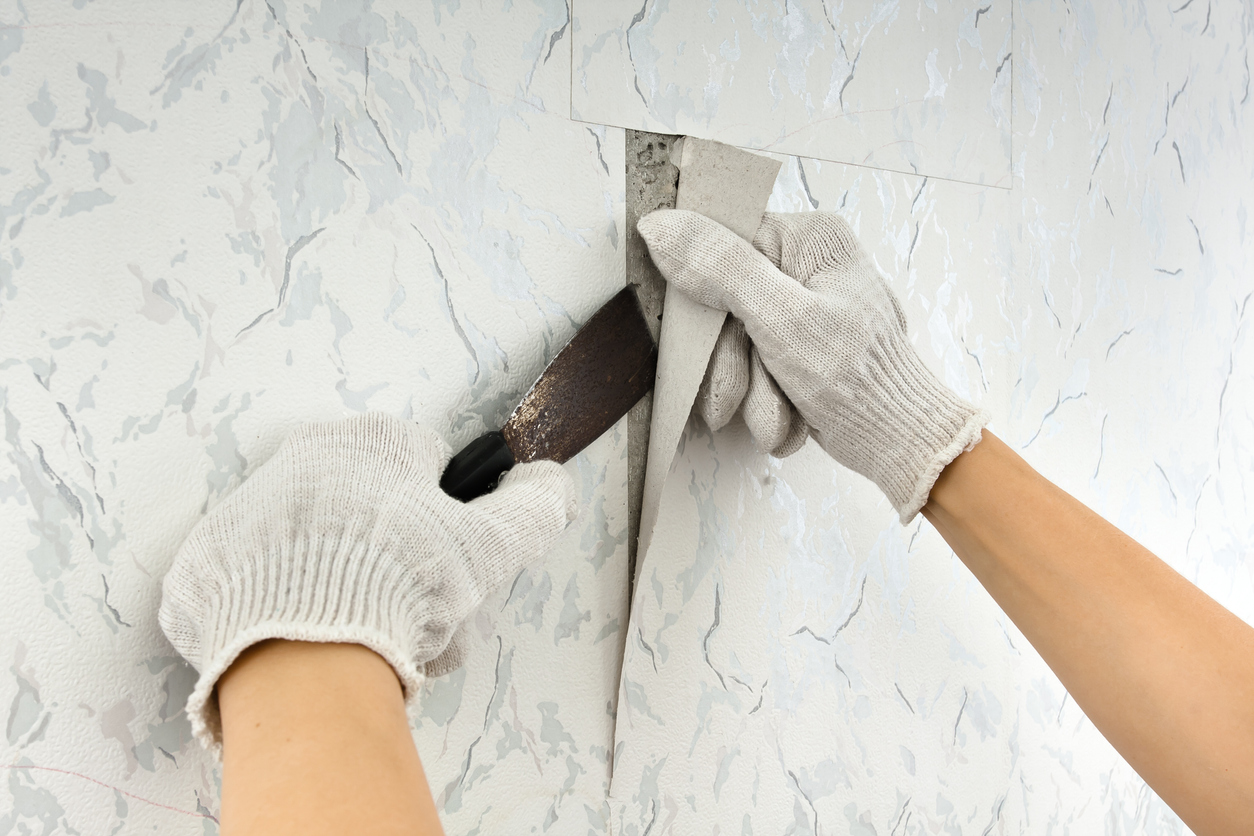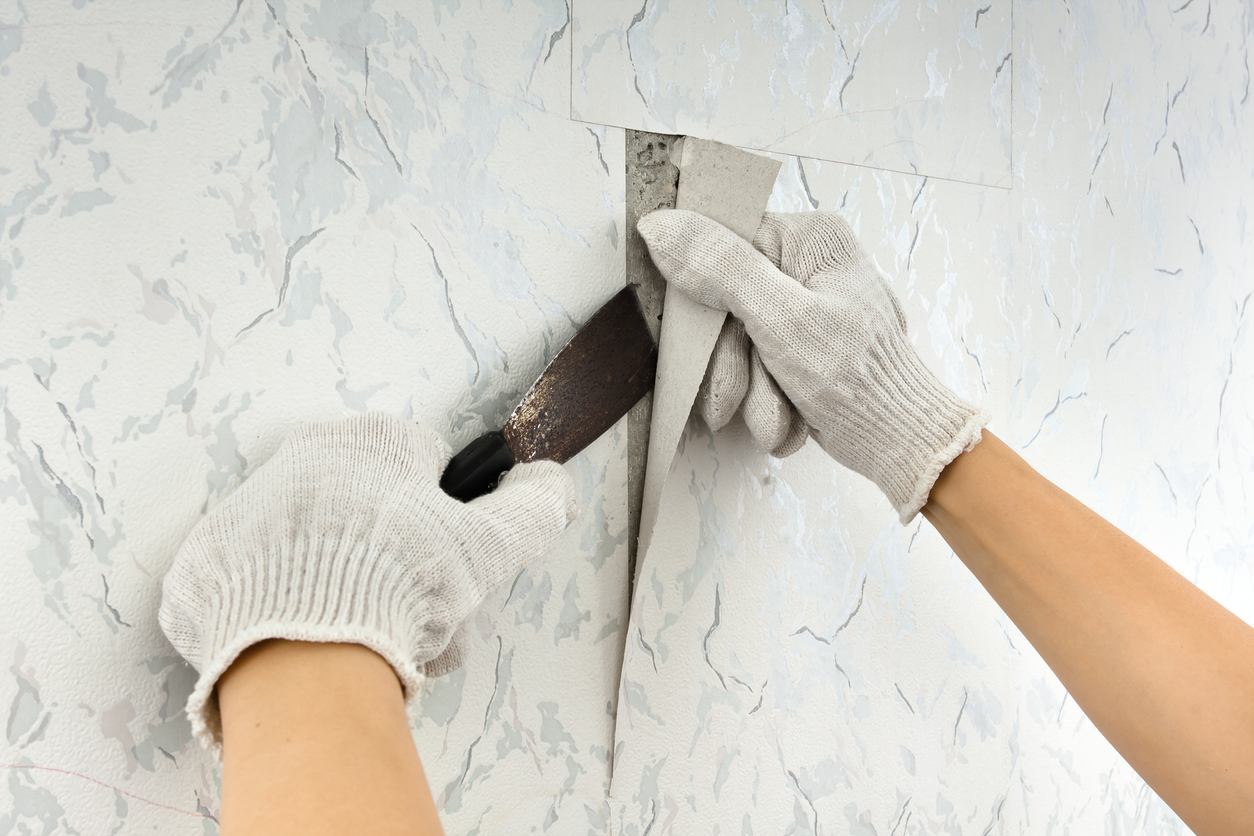 At Custom Painting, Inc., we understand the significance of proper wallpaper removal and the impact it can have on your home's aesthetics. With decades of experience and a commitment to excellence, we offer expert wallpaper removal services at Pleasanton that pave the way for your interior transformation.
Discover why choosing Custom Painting, Inc. for your wallpaper removal needs is a decision that ensures a seamless and beautiful transition.
Benefits of Wallpaper Removal
When it comes to revamping your living spaces, wallpaper removal might seem like a straightforward task, but enlisting the expertise of professionals can make all the difference. Here are the key benefits:
Avoiding Damage to Walls
Removing wallpaper can be tricky. And a DIY approach without the proper tools and expertise can lead to wall damage. Professional removal minimizes the risk of unsightly dents or gouges. Our skilled team employs safe techniques to ensure your walls remain intact.
Saving Time and Effort
Wallpaper removal can be a time-consuming and physically demanding task. Professional services streamline the process. We take on the hard work, saving you valuable time and effort.
Ensuring a Smooth Finish
A smooth, clean wall surface is essential for any new wall treatment. So, it is essential to properly remove the old wallpaper. Our experts guarantee a pristine canvas for your interior design ideas to come to life.
Proper Disposal of Removed Wallpaper
Disposing of old wallpaper can be a hassle. Custom Painting, Inc. handles this responsibility, ensuring proper disposal in an eco-friendly manner.
Reduced Risk of Injury
Wallpaper removal often involves climbing ladders and using chemicals and tools. Our professional team takes safety precautions, reducing the risk of injury during the process.
Our Wallpaper Removal Process
At Custom Painting, Inc., we take pride in our comprehensive and meticulous wallpaper removal process. Here's a step-by-step guide to how we handle this task:
1. Assessment
Our experienced professionals begin by assessing the type of wallpaper you have. Whether it's vinyl, paper, or fabric-backed, we tailor our approach to suit the specific material.
2. Preparation
We prepare the area for wallpaper removal, ensuring furniture and fixtures are protected. This step minimizes the risk of damage to your belongings.
3. Removal
Using specialized tools and techniques, we commence the wallpaper removal process. Our experts employ a range of tools, including:
These machines use steam to loosen the adhesive behind the wallpaper, making it easier to peel away. 
These tools gently lift the wallpaper without damaging the underlying surface.
When necessary, we use safe solvents to dissolve stubborn adhesives, allowing for careful removal.
We ensure safe access to high or hard-to-reach areas.
4. Clean Removal
We are committed to a clean and damage-free removal. Our methods prevent wall damage and ensure a smooth surface for your future wall treatments.
5. Disposal
We take responsibility for the proper disposal of the removed wallpaper, sparing you the inconvenience of dealing with waste.
6. Specialty Services
For particularly stubborn or delicate wallpapers, we offer specialty removal services. These services involve additional care and expertise to guarantee a successful removal.
At Custom Painting, Inc., our skilled team combines specialized tools and techniques to ensure a thorough and efficient wallpaper removal process. We are equipped to handle a variety of wallpaper materials and pride ourselves on our ability to transform your walls into pristine canvas. Our commitment to excellence ensures a seamless transition for your interior design aspirations.
Why Choose Us?
At Custom Painting, Inc., we stand out in the field of wallpaper removal for several compelling reasons:
With decades of experience under our belt, our team possesses the knowledge and skill required to tackle wallpaper removal efficiently and effectively. We have encountered a wide range of wallpaper types and situations, making us well-equipped to handle any challenge.
We take pride in our unwavering commitment to professionalism. From punctuality to the meticulous execution of every removal task, our dedication to excellence is unwavering.
Certifications and Qualifications
Our team holds industry certifications and qualifications, ensuring that our methods meet the highest standards of quality and safety. You can trust that we adhere to best practices in wallpaper removal.
Satisfied Customers
The feedback from our valued clients speaks volumes about our service:
Barbara Baxter remarked, "Your men are everything I was looking for in a painting business. Thank you."
Lori Bond shared her experience, saying, "Your crew was very professional and on time every morning. My home looks beautiful, and I will tell everyone I know what a great job you did."
These testimonials echo the sentiments of many satisfied customers who have experienced the Custom Painting, Inc. difference. When you choose us for wallpaper removal, you're choosing a team that brings expertise, professionalism, and a proven track record to every project.
Let the Transformation Begin! 
Ready to transform your walls with professional wallpaper removal? Don't hesitate to take the first step toward a refreshed interior. Contact Custom Painting, Inc. today to schedule your consultation. We're here to make your vision a reality.
At Custom Painting, Inc., we offer a comprehensive range of services to meet your residential and commercial needs. In addition to expert wallpaper removal, our services include:
Interior and Exterior Painting:

Enhance the beauty of your space with our premium painting services.

Custom Molding Installation:

Elevate your interior with finely crafted custom moldings.

Acoustic Ceiling Removal:

Say goodbye to outdated acoustic ceilings and welcome a modern look.
When you decide to contact Custom Painting, Inc., our dedicated team will send an estimator to your home or business. They will thoroughly assess your project, discuss your painting needs, and provide you with a free estimate.
Don't wait to bring your interior design dreams to life. Contact us today at 925-294-8062 or fill out this form to set up an appointment and take the first step towards a beautifully transformed space.