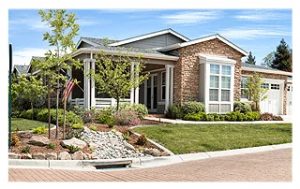 For over 40 years, Custom Painting, Inc. has been beautifying and restoring homes in Pleasanton, Walnut Creek, Danville, and other Bay Area cities. 
We understand your home is very important to you and your family. Your home is one of the most significant investments you've made. So, whether we're painting the interior walls or the exterior siding of your home, we're making sure to take special care to treat it with consideration and attention to detail.
Our team of trained painters will arrive on time, keep the work area clean and tidy, and provide your home's interior or exterior surfaces with beautiful, durable, and long-lasting results. We do everything to make your home attractive again and protect it from the elements. We clean, do necessary repairs and prepare the surfaces before we begin painting in Pleasanton and other cities in the Bay Area. We cannot skip surface preparation as it is the key to making your home beautiful and protected.
Our commitment to our customers and experience on the job make Custom Painting, Inc. the top choice for all your residential painting needs. The list below explains what to expect when you choose us to paint your home:
A quick response time you contact us, via phone or the online form.

We will arrive on time and provide an estimate promptly.


A thorough and concise quotation.

Thoughtful scheduling prior 

A foreman with strong leadership skills.

A dedicated and skilled staff.

High-quality work.

Attention to detail from start to finish.

We use only high-quality paints and primers.

Troubleshoot and problem-solving during the project and after.

A follow-up visit after we complete the project.

A full five-year guarantee on our work.

Liability insurance for $4,000,000.00.

Worker's compensation covers all employees.
We will do everything possible to ensure we did the job to your satisfaction. If you have any questions while we're at your home, please feel free to ask us. Once the painting is finished, we will clean up the work area and do a walkthrough to ensure that everything was correctly and properly done, the work area is neat, and you are satisfied with our work.
You can count on Custom Painting, Inc. for efficient and professional paint jobs that will leave your homes looking fresh, crisp, and modern. We stand behind our work and know the paint jobs will be good for many years.
If you want to experience residential painting services at their finest in Pleasanton, Pleasant Hill, Fremont, and other cities in the Bay Area, request an appointment with Custom Painting, Inc. for a free estimate.