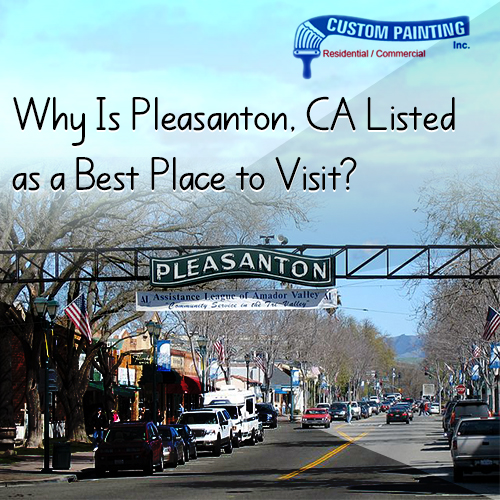 Pleasanton is a city in Alameda County, located in the Amador Valley and approximately 25 miles (40 kilometers) east of Oakland.
Fortunately for Pleasanton, the name suits the city very well. Whether you come here to work, do business, spend a quick getaway, or start a new life, it's quite pleasant here in Pleasanton.
In fact, Pleasanton has been ranked consistently as one of the best cities to live in the United States. Check out some of the following citations that attest how Pleasanton is indeed a pleasant city:
In 2005 and 2007, Pleasanton was named as the wealthiest middle-sized cities in the United States.
In 2009, Forbes named Pleasanton as one of "America's Top Hometown Spots"
In 2010, Pleasanton was ranked 63rd by Money.com in its list of "The Best Places to Live."
In 2013, NerdWallet named Pleasanton as the third wealthiest city in the United States in terms of income.
In 2014, Pleasanton was ranked fourth by USA Today in its list of "50 Best Cities to Live."
Pleasanton may be designated as a city, but it still possesses that small-town charm that prides itself on its history, culture, and progress. Here are the reasons why Pleasanton is considered among the best cities to visit and live in the country:
Perfect weather all year round – Many people find Pleasanton's Mediterranean-type climate agreeable. It consists of hot, dry summers and cool and wet winters.
Accessibility – If you choose to live in Pleasanton, you will enjoy immediate access to the city's 1,200 acres of parks and open spaces, as well as its proximity to bigger cities, such as San Francisco and Oakland (the latter being the seat of Alameda County)
Economy – Pleasanton's economy is thriving, thanks to a variety of industries. The city also benefited from the economic and tech boom during the 1980s. It is now the home of several tech companies and startups, as well as traditional businesses. The headquarters of Safeway, Ellie Mae, Roche Molecular Diagnostics, and Veeva Systems are located in Pleasanton. In terms of retail, Pleasanton has one major regional mall as well as a number of other shopping centers.
Education – If you have kids and are planning to move to Pleasanton, you will be glad to know that they will be in good hands when it comes to education. The Pleasanton Unified School District is one of the top 10 schools in the state of California. There are several educational museums in Pleasanton, including the Click Art Museum, which provides interactive learning and fun for visitors of all ages.
Downtown Pleasanton – Pleasanton has a lively downtown, which is home to a number of retail stores, service businesses, and restaurants with lots of outdoor dining options. The streets are lined with trees and it is pedestrian friendly for those who prefer to walk rather than drive. Downtown Pleasanton also holds events such as concerts, holiday, and cultural shows.
Pleasanton Farmers' Market – It offers the freshest seasonal farm produce and artisanal food product, attracting both locals and tourists to Pleasanton. It is open on Saturdays all year round.
If you're planning to live or do business in Pleasanton, the homes there are built and designed for both function and style. You can find several gorgeous residential communities in Pleasanton, where houses and other buildings have been well maintained.
A large part of the maintenance of these structures is the quality paint job. Residents in Pleasanton sure know how to choose the best contractors to paint their homes and businesses and make them look brand new again.
When you need quality painting services in Pleasanton, you can always depend on Custom Painting, Inc. Since its founding in 1982, Custom Painting, Inc. has been a fully licensed and insured company that has provided a full range of painting services for homes and businesses in Pleasanton, its neighboring areas, and the rest of the Bay Area and East Bay.
We rest our solid reputation on the quality of paints and equipment we use, as well as our professionalism, good work ethic, and commitment to our duties – from estimating your site to the actual paint job, down to providing warranties for our finished work.
When you work with Custom Painting, Inc., you can be sure that the work will be handled professionally and on your schedule. Call us today at 925-294-8062 for an appointment with our estimator and to receive a free estimate.