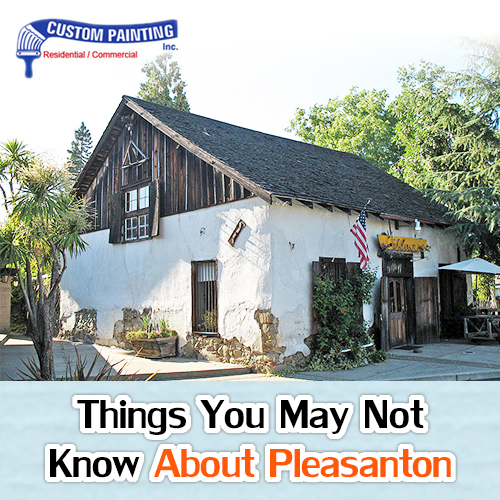 You already know that Pleasanton is one of the cities in Alameda County. You also already know that Pleasanton is one of the wealthiest suburbs not only in the entire county, not even the entire California, but actually the entire United States.
You already know, as well, that Pleasanton is one of the best places to live. If you're residing in the big cities, such as nearby San Francisco, Pleasanton makes an excellent place for a weekend getaway.
But if you have been to Pleasanton a lot of times or been working or been a resident there for many years, you may assume that you know the city inside out. But we bet that at least a handful of these interesting facts are things that you may not know about Pleasanton. Check out the following Pleasanton facts and see how many of them you already knew (or didn't yet know).
1) The name "Pleasanton" was a result of a typographical error. It was supposed to be named for Union army cavalry Major General Alfred Pleasonton. However, a U.S. Postal Service clerk made a typo and Pleasanton was born!
2) The land now known as Pleasanton was first inhabited by the Ohlone natives.
3) Before Pleasanton was established, there was a town that preceded it. It was called Alisal, which had earned the nickname "The Most Desperate Town in the West" as it used to be the hangout and refuge for many outlaws.
4) Pleasanton has a pleasant Mediterranean climate, which is characterized by hot, dry summers, and mild to cool winters.
5) The extremes of Pleasanton's weather: The highest recorded temperature was 115 degrees Fahrenheit (64 degrees Celsius) in 1950, while the lowest recorded temperature was 17 degrees Fahrenheit (-8 degrees Celsius) in 1990.
6) Pleasanton was once home to Phoebe Apperson Hearst, mother of media magnate William Randolph Hearst. She owned a 50-room mansion named La Hacienda del Pozo de Verona (The House of the Wellhead of Verona), located in southwest Pleasanton.
7) Pleasanton is one of the best places to live in the country.
In 2014, It was ranked number four in USA Today's list of "America's 50 Best Cities to Live."
It was ranked number 63 in Money's list of "The Best Places to Live" in 2010.
It was named by Forbes as one of "America's Top Hometown Spots" in 2009.
It was named the third wealthiest city in the U.S. by NerdWallet in 2013 and 2016.
8) Pleasanton currently has 46 community and neighborhood parks, over 60 miles of trails, and 700 acres of undeveloped open space. They include the Pleasanton Community Garden, Mission Hills Park, Pleasanton Ridge Regional Park, Lions Wayside Park, and Amador Valley Community Park. There's no shortage of beautiful parks and nature spots in Pleasanton to spend time with family and friends!
Pleasanton rings true to its name – it is a pleasant, quaint, and friendly city. The combination of economic prosperity, modern comforts, small-town charm, and wealth of beautiful nature spots makes Pleasanton an ideal place to live, work, or have a holiday.
You can help keep your corner of Pleasanton looking great by painting your home or business. Custom Painting, Inc. has been serving the Pleasanton area, including Dublin and Livermore, for almost 40 years. Contact them on their Contact Us form or give them a call at (925) 294-8062 to get a free estimate or to setup an appointment to get your property painted.