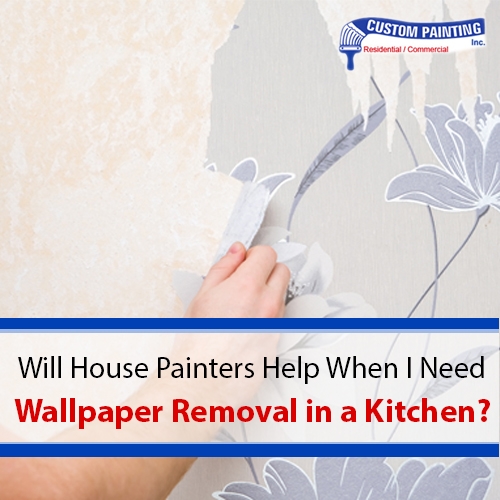 Many homeowners in Pleasanton, CA want to get rid of wallpaper in the kitchen for fear of it getting dirty with grease or catching fire. Or, they have tired of looking at their drab-looking wallpaper and refreshing the kitchen with new paint. But will house painters help when I need wallpaper removal in their kitchens?
It is important to remember that wallpaper removal is not easy as it looks. It is a tricky, intricate, and laborious job, especially when dealing with non-strippable wallpaper, multiple layers of wallpaper, or wallpaper that has been up for years or even decades. For a first-time or inexperienced DIY painter, attempting to strip off wallpaper will involve some learning curve. It will take time to complete the job and can even lead to costly mistakes, such as damaging the drywall.
As a responsible homeowner, you wouldn't want to risk ruining your kitchen walls by attempting to remove the wallpaper yourself. Moreover, you take pride in maintaining your property and its value, so you're willing to invest in professional repairs and upkeep.
More painting contractors have become "all-around" as they offer various services besides wall painting. They include kitchen cabinet painting, light construction, custom installation work (such as crown molding), wood rot repair and removal, and wallpaper removal. However, not all companies offer wallpaper removal, so ask contractors whether they have such a service.
Leave it to the pros
Hiring a reputable painting company will go a long way in making your home look refreshed and updated and optimizing its overall property value. Here are the following reasons why wallpaper removal (and painting) should be left to professional painters instead of having to DIY it.
1) They get the job right on the first go
Again, wallpaper removal is not easy as it looks. So, don't be tempted to try removing the wallpaper yourself because you believe it's a manageable job and will save some money.
Wallpaper removal involves a lot more procedures than you think. Some projects might require even more steps – depending on the type of wallpaper – which may take time to complete. Unless you have the luxury of time, you might be in a hurry to complete the job, and you'd probably end up with sloppy results.
Instead, hand the job to the experts who will devote their time to the task you have asked them to complete. With skills, experience, and the right tools, they will turn out a beautiful finish that will make your kitchen look as good as new without the traces of the old, drab-looking wallpaper.
2) They have the right tools and equipment
You might think wallpaper removal requires a few basic tools. Well, think again. If you've never done this job, you'll need to invest in tools and equipment to do the job right.
You'll need to purchase a few things to properly strip off wallpaper without damaging the surface. First, you'll need a proper step ladder to reach the higher walls and some spray bottles to dampen the wallpaper with water or a strong wallpaper stripper solution. But if you don't want to use chemicals, an electric wallpaper steamer is another option.
And that's not all. You'll need a scoring tool, such as a putty knife, to scrape all of the dampened wallpaper, piece by piece.
And you know what? You will use all of these tools once and won't probably use them again. So, instead of buying those things, save your hard-earned money and put it towards hiring professionals in this field.
3) You don't have to run the risk of damaging your home's interior walls
Again, attempting to remove the wallpaper alone can result in costly mistakes, including damaging your walls.
In most cases, stripping off wallpaper can leave at least some nicks and dents on the walls. The wallpaper may have been stuck so closely to the surface. It tears the paper from the sheetrock when removed, revealing the brown paper backing underneath. In this case, the wall must be repaired and sealed correctly before being skimmed and textured to prevent it from bubbling.
Hiring professional painters to do the job means you can ensure the job gets done right the first time with minimal damage to the walls. Then they will repair that damage as part of their service.
4) Save time and energy
One of the reasons to hire professional painters for home painting and improvement projects is to save time and money.
As a homeowner, you already have a lot of things on your to-do list. This is why outsourcing the job to professionals can be of such great value. By hiring a paint and home improvement expert, you don't have to watch tutorials on YouTube, grab tools you'll only use once, and then attempt to remove the wallpaper yourself.
Instead of figuring out how to remove wallpaper and wondering whether house painters will help when you need wallpaper removal in your kitchen, contact Custom Painting, Inc. to get started on your wallpaper removal and painting project. Check out our website and see how our services can benefit you. Once you've decided to work with us, drop us a line, and we'll send you a free estimate!