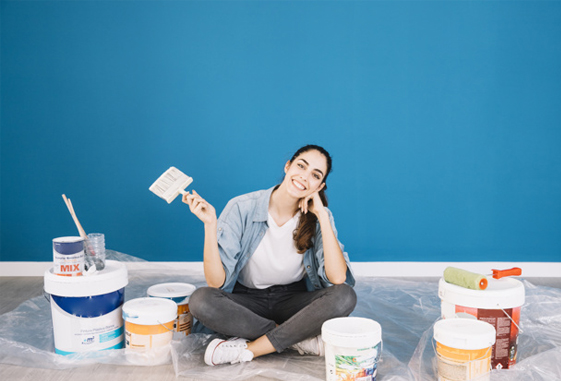 House painting in Pleasanton can be a formidable task but it is all worth it if you want to update the look of your house. Compared to interior painting, exterior painting is more difficult as well as it is more demanding and time-consuming. As is expected, a lot more prep work is needed before you move on to do the painting portion.
But if you follow all the following steps below, all the hard work will be worth it and you'll have a better-looking house.
Decide upon how much of your home's exterior you would like to apply a fresh coat of paint. It depends on your preference. You may want to paint the entire house or only certain parts of it such as the gables, shutters, or trim.
If you're still not certain what color of paint you'd like, purchasing quarts of the different paint colors of your choice is suggested. Create large samples of these paint colors for comparison. Poster board is one option to choose for the larger samples. From then you'll be sure on what final choice of paint you'd like to apply on the exterior of your house.
Another suggestion if you're still unsure about the color of your new paint: browse sample books, or browse the Internet to find inspiration for your house exterior painting project. You should keep in mind though, that while you want your house to look at least a bit unique, it should still harmonize with your neighborhood's homes.
Clean the exterior surface of your house. This is very important, because a clean house will enable the paint to adhere more quickly and effectively. Use a steel brush to remove old and peeling paint, and then use an ordinary brush to clean hidden hard-to-reach surfaces to get rid of more dirt. Use solvents and disinfectants to get rid of mold and mildew. Using a garden hose is ok. If your house has severe paint peeling, a pressure washer will do some of the work for you. Remember, though, a pressure washer may damage your walls if not properly handled so use it with caution. Pay attention to downspouts, eaves and gutters as well as some problem areas of the surface. Finally, rinse the surface of your home's exterior.
Pay attention to the flaws of your house exterior such as cracks, broken or soft wood, and nail holes. Use putty and caulk (sealants) to cover these flaws. Where the house calls for the removal of the old caulk, scrape it off and apply new caulk. Apply a primer on your walls for a smoother finish; a primer can also address flaked-off, thin or blistered paints. If your walls are severely damaged, have them repaired.
When starting to paint, protect your plants, flower beds, and any furniture that is near the walls by covering them with drop cloths. While plastic and paper are decent cover materials, canvas is the best and most economical material for drop cloths.
Exterior house painting is not an easy task – and these are only for the preparation work. However, if you properly follow all these tips, your exterior house painting in Pleasanton will be definitely less burdensome.