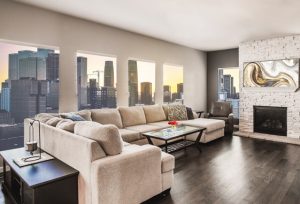 Simple house painting in Pleasanton can create a big difference in your home. Not only will fresh paint make the home more updated, it can help you create a haven to return to each day. You may not feel like your home is a haven if you have old acoustic ceilings, however.
Acoustic ceilings, also known as popcorn ceiling, are types of ceilings that used to be so popular during the 1960s and the 1970s. Back then, acoustic ceilings seemed to be a good idea and in fact were all the rage. But no one asked the homeowner if that was really true. Even way back then, acoustic ceilings became a deep nuisance to every home-maker mainly because they were very hard to clean. These textured ceilings collected both dust and spider webs. Trying to paint acoustic ceilings is next to impossible, except if you're using a sprayer. Acoustic ceilings are a thing of the past and should be removed. If you still have acoustic ceilings in your home, Custom Painting, Inc. is experienced in this type of ceiling removal and can do this when house painting in Pleasanton.
When you need to have your acoustic ceiling removed, you can rely on Custom Painting Inc., to do the job. The company knows that removing old-fashioned acoustic ceilings are a certain way to enhance and update the look of your home, as well as to improve how you feel about your home. Removing acoustic ceilings is not for everyone, as it is labor-intensive, involves meticulous preparation, and can even be hazardous. Only a trained professional should do the job.
When removing acoustic ceiling, every area should be covered in plastic, including walls, floors and all furniture. Then, the acoustic ceiling is scraped off. Once all the acoustic texture has been totally removed, the ceilings are repaired, sanded, and prepared to be painted. Priming and painting are the final steps in this process. After all the work is done, all debris is removed and cleaned off. The furniture is then put back where it belonged.
Most companies do the job of only removing only the acoustic ceilings and texture, and don't do the priming and painting work. However, Custom Painting Inc. will do it all — from the acoustic removal to texturing down to painting.
Rather than hiring two contractors — one to do the textured ceiling removal and another for priming and painting — get one contractor. Custom Painting Inc. can do both jobs for you. Custom Painting offers competitive pricing on acoustic ceiling removal/texture and paint so you don't have to have the hassle of scheduling multiple contractors.
The entire process of removing acoustic ceilings, and then priming and painting will take 2-3 days, for an average home. Custom Painting Inc. is very flexible and is available to work on weekends if necessary to get your home spruced up.
Your home should be your comfortable haven from the rush and the stress from the outside world. How your home makes you feel is of the utmost importance to Custom Painting, Inc. When the company satisfies its customers, they become loyal customers. Repeat customers as well as word of mouth marketing are crucial to the success of the company, just like in other business. That's why Custom Painting Inc. takes its workmanship seriously to give customers the ultimate satisfaction whether removing acoustic ceilings or house painting in Pleasanton.