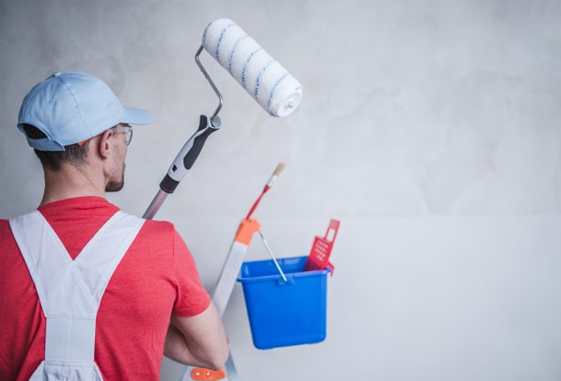 When you have to do house painting in Pleasanton, which of these would you prefer to use: a brush, a roller, or a sprayer? Everyone has their own opinions on each of these painting tools. So let's compare them one by one.
The paint brush is probably the most commonly-used painting tool. They come in all sizes, shapes, widths, lengths, and prices. There are brushes that are made for specific surfaces. For instance, wide brushes with sturdy handles are appropriate for painting larger, wider surfaces while smaller, narrow brushes with easily gripped handles work best for smaller areas like cutting in or painting trim.
You can even find specialty brushes (brushes that have very little or have almost no handle) that are made to paint in certain confined surfaces like the inside of rails. When you have to work around detail or "cut in" around windows, soffits, doors, trim like crown molding or baseboards, brushes are the only feasible tool to use. As a matter of fact, brushes seem to be the most practical tool to use when two surfaces come together. They are also good to produce a good edge without the need of masking.
Rollers are ideal for painting large, flat surfaces. There are two parts of a roller: the first is the roller and the second is the roller cover. The roller is basically the handle that has a moving spindle for the roller cover. The roller cover holds the paint and applies it on a surface. Rollers can be reusable or disposable.
Manual rollers are the most common kind of paint roller and are typically used to apply paint on large, flat surfaces such as walls and ceilings. There are also a variety of roller covers that are made of natural materials (lamb's wool, sheepskin or mohair), synthetic (nylon, Dacron or polyester), or a combination of both. The variety of naps and materials permit the rollers use on a variety of surfaces with efficiency and relative ease. Pay attention when choosing the thickness and the consistency of the cover's nap. Consider what type of paint you're going to use and on what type of surface you're going to paint.
Unlike the widest brush, rollers are definitely much wider and can hold much more paint. With just a few rolls on the surface you can cover a larger area without going back to the paint bucket to get more paint. Rollers can also come with long handles, and there are also extension poles to adjust the length of the roller handle to reach a high ceiling. Like brushes, rollers are sold in different widths. Although there are some rollers that work for smaller areas, they are still best for painting open-wide surfaces.
Another tool for house painting in Pleasanton is a sprayer, a machine that uses a compressor to spray paint out as a fine mist. Sprayers are definitely better than a brush or a roller in covering larger surfaces. Paint sprayers have improved in recent years, and there are some good ones that are relatively inexpensive. These will enable homeowners who like DIY projects to spray paint evenly without needing to add a thinner or additives to the paint.
A paint sprayer can also be adjusted to cover smaller surfaces, but you may still encounter such problems as fine control and over spraying. To achieve the best results when spray painting, it is vital to cover or mask the work area. If you are working outdoors, the wind must be calm, doesn't seem to happen when doing house painting in Pleasanton.
Despite the fact sprayers have become relatively inexpensive they're still far from being cheap when compared to brushes or rollers. Aside from that, you'll have to take the sprayer apart and clean it to change colors, paint types, or between uses.
There has been so much confusion on how to paint using a paint sprayer. When painting on textured surfaces (such as stucco), you can't paint them using sprayer alone. You will need to back-roll the paint to get the best coverage. "Back rolling" is a term which involves using a paint roller to press the paint that was previously applied by the paint sprayer. The purpose of back-rolling is to make sure that the paint gets into the porous surface evenly.
Considering all the methods of house painting, which of them will work best for you? Will it be brushing, rolling, or spraying? Using a brush will provide quick and accurate results (especially if you're an experienced painter), but a roller will make your work even faster. Using a spray painter is the quickest way to coat a large surface but it won't provide accuracy and fine detail that a brush provides. Besides, coverage is still an issue whenever you use a sprayer. A roller isn't good for small spaces nor is it an ideal tool if you need to do detailed work.
The best decision, in the end, is to use the tools you need. Or, if one or more of them are needed, then use them to achieve the best results when house painting in Pleasanton.