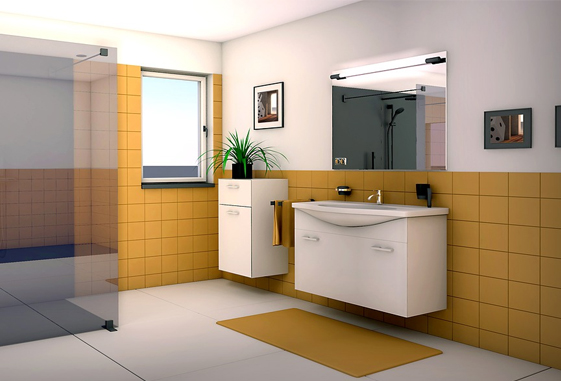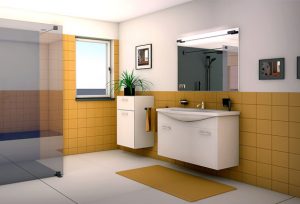 When house painting Pleasanton, there are different approaches for painting a bathroom compared to the rest of the house. Besides being susceptible to high moisture and humidity, bathrooms are generally small, although there are a few bigger ones, too. These two circumstances, as well as others, present quite a challenge to painters.
Before you choose paint color combinations for your bathroom, you will want to find the ideal paint type. Especially for a bathroom that's frequently used, you will want to buy paint with a level of gloss or sheen. Paint with an eggshell or satin sheen is the most preferred for bathrooms, as it gives off the right amount of gloss and makes bathroom walls easy to clean. You may also want to buy paint that is mildew-resistant.
Perhaps you prefer a bathroom that is classic white with basic fixtures and a simple tile floor. You may think an elegant bathroom featuring very ornate fixtures with wrought iron is perfect. No matter which you choose, the color combinations in the bathroom control the tone and atmosphere of the bathroom.
If you are a nature enthusiast and want to apply natural elements to your bathroom, paint your walls with forest green and paint your ceiling sky blue. This gives your bathroom a whole outdoorsy atmosphere. To enhance the look, you may want to use natural wood trim. You may choose other color options such as sunny yellow, sage green, earth tones such as varying brown hues, shades of green, and anything else that reminds you of the natural landscape.
A bathroom is also a place to relax and de-stress. For this purpose, you may want to apply a softer, soothing atmosphere to your bathroom. For a spa-like ambience, apply paint colors such as chocolate brown and sea foam green. Blue is an unbeatable color for a bathroom, as well as white, and these two would make an excellent combination if applied correctly. Examples of blue include pastel, slate, and navy which could be an excellent color to pair with brighter items such as towels. Pink also gives off a soft, comforting feel. You can also pair pink with warm browns that will make a comfortable space.
If you want to have a bathroom with a more playful look, there are also a variety of paint color options. These colors can reinvigorate your spirit as you shower. Bold colors and patterns such as lime green, pink, purple, white or fuchsia will seem playful. You can also use warm tones such as appropriate shades of yellows, reds, and oranges, but be careful when using these colors. To achieve the best playful effect for your bathroom, mix cool and warm tones. Bring completely contrasting and complementary colors to make your eyes pop and bring fun into your decor.
If you want a classic, fresh look, go for solid white and lighter tones. Bring out highlights in your otherwise all-white bathroom by painting accents of contrasting colors such as blue or Kelly green. These contrasting colors make the white pop and increase the perceived freshness of the room.
Speaking of accessories too, consider these things when choosing what colors to buy. For instance, if you're going to apply makeup inside the bathroom, choose colors that will go well with your skin tone instead of colors that will make you washed out. The same goes with including fixtures and furniture for your bathroom, especially if they have colors in them. Apply wall paint colors that to complement the fixtures rather than matching them.
Finding color combinations for your bathroom can sometimes be tricky when painting. However, if you follow the tips mentioned above, your bathroom will look as great when house painting in Pleasanton.