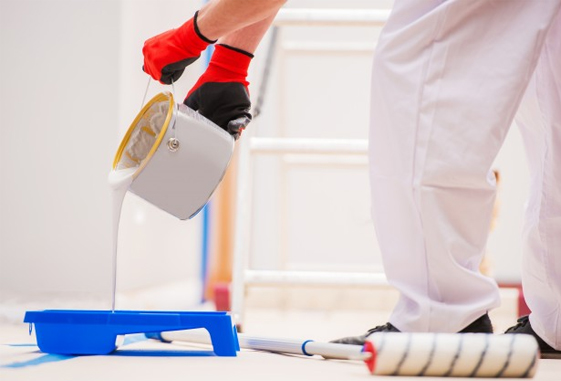 You don't have to look hard for commercial painters in Pleasanton and nearby. Nowadays, they're just a call away, and they will be right there to serve you.
Like in many businesses, commercial painting companies do many sorts of ways to attract clients. It's obvious that not all commercial painting services in the area the same exactly. They offer a different line of services, the paints and the tools they use, the rates they charge, the estimates, contracts and the warranties they offer, as well as the number of workers, scheduling, payment options, as well as discounted rates, etc., among all other things.
So, the thing that you should do is to hire the best contractor that you could possibly find. Doing a bit of research will ensure that you will be able to get the best contractor to work for your commercial property:
1. The first thing that most people do nowadays whenever they are looking for the best painting contractors in Pleasanton is to look for them on the Internet. The first place that they go to is to look at their websites and browse anything in it – history, vision, services as well as customer reviews.
If you would also like to know whether a company is notorious for receiving several complaints from customers, check out the Better Business Bureau website and enter the name of the contractors you're considering to hire.
2. Ask friends, neighbors or any of your colleagues around who also happen to operate a business establishment. They may recommend you to the commercial painter that they have worked with in the past. They would even invite you to their property so that you could inspect the latest work by the painting contractor.
3. When you finally have a short list of contractors (at least three) – invite them over to check your property what needs to be painted or repaired. Then they will give you estimates. You should also consider the other points that you are looking for a contractor – their professional behavior, skills, efficiency, punctuality, good communication and relations with the contractors, even the uniforms they're wearing. If a certain candidate has all these positive attributes, then you should consider hiring them.
4. You may have a lot of things going on in your mind, but do not forget to ask them the most important questions, like:
– Is your company licensed?
– Is your company insured?
– How long have you been in the industry?
– Do you subcontract, or do you have your own workers? (people generally prefer a contractor who employs its own workers)
– Are you affiliate to any commercial painting affiliations?
– Am I going to worry about the workers who will come to my property?
If the candidates are able to answer your questions satisfactorily, then you're a few steps away from hiring that contractor. After that, you will be able to proceed to other things such as a contract and a warranty. It is important to read thoroughly what's in the contract and in the warranty. If you have any questions, do not hesitate to ask your contractor.
A contract provided by your painting contractor typically includes the cost of the materials and the labor, the timeline, the type of paints, supplies, and other services, as well as payment options.
A warranty, on the other hand, usually contains the things that a painter usually covers. If a paint failure appears soon after the work has been done, for instance, it's usually the result of a poor workmanship. The company will provide labors and materials to correct the paint issues at little or no cost. But a warranty may exclude other things such as incidental damages, moisture, cracks, etc., which the contractor will not cover.
Since commercial painting companies in Pleasanton differ, you have to start doing a thorough research and investigation, so that you will hire the ideal contractor who will be able to meet your needs (as well as your budget).