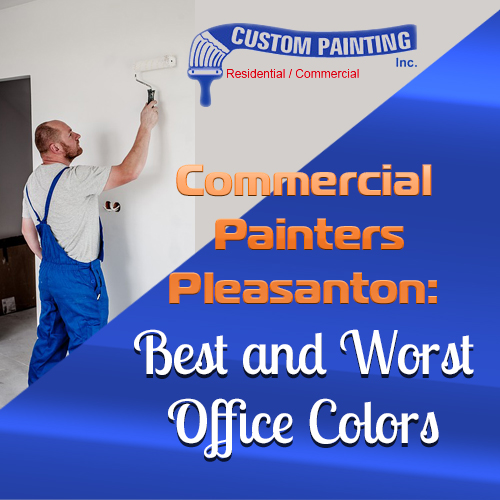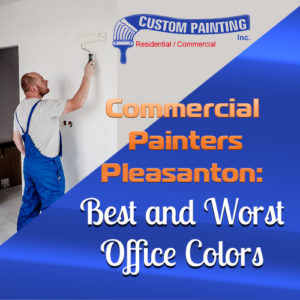 Every new season is the best way to refresh and renew our outlook in life. As for companies and commercial establishments, it's also the best time to reset their goals and their vision, and to give their businesses a whole new branding.
Of course, along with the renewed goals and the vision, companies should not forget the more physical aspects of their business: that is, to give their establishments a refreshed look, from exteriors to interiors. Even just a fresh coat of paint will go a long way. If you are not too sure what kind of paint color should be right for your business, you can always consult the best commercial painters in Pleasanton and they will give you the best suggestions about the right paint colors.
It may sound trivial to say that the color of your office can affect the mood of your employees and clients, as well as your professional behavior and relationships with them. But it's true – the colors painted on your office will greatly affect your mood. Choosing colors is as important as choosing   comfortable and ergonomically designed workspace furniture, tools, fixtures, etc. Companies know all too well that their employees' mood and behavior can significantly affect the direction of their business. The right color palette will help employees focus more on their work and become more productive.
Businesses can choose colors which what they seem to them as appropriate. However, below is a general guide of the colors that you should use – and you should not use – for the office.
The best colors:
1) White, off-white or beige – Neutrals are often the best and safest bets for office painting. You cannot go terribly wrong with white, off-white or beige, as you can match this color with accent colors or the right kind of furniture. White, off-white or beige is economical as well. It is the best color to use for smaller office spaces, as it gives a bright enough look and the illusion of a bigger space.
2) Gray – Gray is another neutral color. You may be surprised to learn that gray is a good color, if you use the right shades. It's not really a dull choice for an office color as many people perceive it to be. Gray is a soothing color that will help you ease down your stress, especially when things get really tense around the workspace. Plus, depending on the shade, gray is a versatile and easy-to-work color. It can be matched with other colors like brown, white, red, purple, green, etc.
3) Red – The color of passion and energy, red is believed to bring increased blood pressure and heart rate. Thus, if you are feeling groggy as you come to the office, some hits of red will help you to get yourself awake and energized. Red can also whet your appetite and stimulate closer communication and collaboration. However – except when used at fast-food establishments and restaurants – too much of red can also trigger negative emotions such as anger and anxiety, so it's best to use it for an accent wall.
4) Brown – Brown is a calming and reassuring color, no matter what shade. But unlike blue and green, which engender a peaceful, tranquil or even a soporific effect. Instead, brown brings out an impression of confidence, credibility and security.
The worst colors:
1) Pink – Pink is the perfect choice for your little girl's bedroom. But it's definitely a no-no for the office space. Bright and vivid pink is too bold and too stimulating to the eyes that it can distract you from finishing your all-important deadlines. It's best reserved for little office accents.
2) Yellow – Yellow has that image of being a happy and cheerful color. It's the color of sunshine, sunflowers and lemonade. It can help boost people's mood and inspire creativity. However, yellow is not the best bet to paint for your business, especially the entire office interiors. Just like pink, yellow is too bold, too stimulating and too distracting. It can even trigger intensely negative feelings such as frustration, anxiety and anger. It's okay if you use yellow as an accent color. If you had to paint your office with yellow, the best way is to use white or softer shades of green, purple or blue to complement it.
3) Turquoise, bright green and bright red – At first, these colors may be attractive to the eyes. But imagine staring at these colors for long periods of time, and you may eventually feel irritable, uncomfortable or dizzy. These colors are also too distracting which prevents you from focusing on your job. Avoid using any of these colors on all four walls of your office.
While preferences also matter, you still have to consider the effect that color can have on office employees. That's why the right colors for the office do matter, as they can encourage an atmosphere of energy, positive vibe, creativity, productivity, good business relationships and interaction – and when these things come together, they will make any business successful.
However, it's also important to know that relaxation matters a lot. Choosing colors that are meant to recharge and re-focus one's priorities are also great for some office spaces, especially when employees are going through a stressful workday or experiencing burnout.
Hiring the best commercial painters in Pleasanton is the best option because they have the experience and the expertise regarding the best colors and color combinations for any commercial spaces.