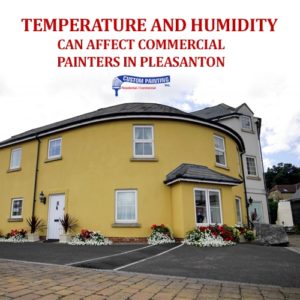 There are many situations which the best commercial painters in Pleasanton should earnestly consider when doing their job. They include temperature and humidity that may either have a positive or a negative effect on the paint, especially on how (and how long) it dries.
Temperature and humidity will pose little problems if you're doing interior painting. But it's going to be a significant concern if you plan to go out to paint the exteriors, especially if your business is in an area which experiences extreme and unpredictable weather conditions.
That's why knowing when the best time is to paint outdoors is important, as well as knowing how to avoid painting in these extreme weather conditions. Having the right information can help you avoid exterior painting problems.
Here is a couple of rules of thumb when painting outside: if you're using latex or acrylic paint, the ideal temperature should be at least 50 degrees Fahrenheit; and if you're using oil-based paint, the ideal temperature should be 45 to 90 degrees Fahrenheit for at least 48 hours. But you can find special paints that are formulated for application under extreme temperatures, even as low as 35 degrees Fahrenheit!
Now, expect the worst-case scenarios when painting outside under extreme weather conditions. You can also check out the ways on how to prevent a bad paint job from happening due to such reasons.
Painting under cold temperatures
Painting in the bitter cold prevents the drying of paint altogether. The paint will fail to adhere properly to the surface. It will condense, thicken and become semi-solid. Since the paint still retains much of the moisture, it will sag and crystallize quickly.
But if you really had to paint outside in the cold, the trick is to do it during the daytime or just before nighttime falls. It's because air temperatures drop below the freezing point during the evening. Since freshly applied paint still contains moisture, it will harden and crystallize under below-zero temperatures even before it starts to cure itself properly.
That's why it's extremely important to keep in mind that temperatures should be 45 degrees to 60 degrees Fahrenheit when you go out to paint during cold weather. Not just that – the temperature should remain within that range for at least two or three hours to give the paint enough time to cure itself properly.
Painting in hot temperatures
Paint needs heat to dry itself quickly. But painting under extremely hot weather is a different matter. The paint will dry too quickly before its lower layers have the chance to cure itself properly. This results in a variety of surface problems such as discoloration, cracking, blistering, bumps or "alligatoring."
Paint brushes and rollers will also be affected by the extremely hot weather. They will dry quickly, become hard and turn stiff, making them unusable.
But what if you need to change the looks of your establishment for the summertime, for instance? Here are the ways to achieve an optimal painting job (as possible) by considering any of these tips:
Start painting early before the day gets too hot.
Do not paint under direct sunlight.
Try painting in the shade.
Try to use any covering (such as a vinyl tarpaulin) to provide shade over your work site.
When the surface gets too hot, stop painting for a while. Then resume painting just about an hour before sunset or during sunset, if you can.
Extreme weather changes
Nothing is more annoying than experiencing unpredictable and extreme weather changes during the day as you paint outside. One moment it is a nice, sunny day as you begin to paint…only to experience heavily clouded skies and rain showers later in the day. This result is slower drying and curing, and your entire paint job will be practically ruined.
The best possible solution to this problem is to paint during the late summer or early autumn. The best painting contractors in Pleasanton should consider these seasonal periods as the ideal time to do exterior painting. It's because they are least likely to experience sudden and unpredictable weather changes.
Humidity
Aside from temperature, another issue that constantly haunts commercial painters is humidity, especially high humidity. Higher humidity means a higher level of dampness in the air, and this means the paint will dry and cure more slowly than expected. It's because moisture will enter the paint film before it has the chance to dry itself. Besides, it will attract dust and soot. That's why painting on a damp surface is a big no-no.
This problem can occur in both exterior and interior painting (especially when painting in poorly ventilated areas).
That's why painters prefer to paint in low humidity when there's less moisture in the air. The drier the air, the bigger the likelihood that the paint will dry and cure itself properly.
So how to prevent humidity from ruining your paint job? Here are some helpful tips:
Refrain from doing an exterior painting when the day gets late, as the temperature begins to drop, and humidity becomes high.
Paint on warm surfaces.
Paint in thin coats as it will allow the paint to dry quickly and properly.
When painting interiors, make sure that the area is well ventilated by opening doors and/or windows and turning on fans.
Temperature and humidity are some of the main concerns among best commercial painters in Pleasanton. When the weather sometimes gets too extreme, they would rather prefer to wait first until conditions become ideal again for painting, especially painting outdoors.