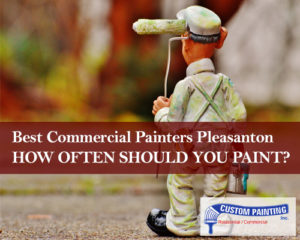 In business, appearances do really matter. It's a fact that customers buy products and patronize services by sight, and companies and smaller enterprises alike have been taking advantage of that by making their businesses visually attractive. This should include maintaining the look of their own establishments.
Only the most qualified and best commercial painters in Pleasanton are able to transform the physical look of businesses and make them brand new again. That's why commercial establishments should do periodic maintenance by hiring commercial painters who will be able to keep them looking attractive to new and long-time customers/investors alike.
It's true that maintenance and repainting commercial buildings mean another set of expenses yet again, but the payoff would be worth it.
But the question is, how often should you paint or repaint your business?
The answer is: it depends. But that's not just a vague answer. Look into these possible factors and see if any of them conforms to your business' situation:
1. Change of color
Have you grown tired of looking at the same old colors on the interior or exterior walls? Or has any of your customers posted a review to say that your place looks drab and uninteresting, or too overwhelming? Even if that color is still your favorite and it has remained on your walls for five or ten years, but you think it needs a change, then go for it. Repaint the walls and replace the old colors with newer and more vibrant ones for a refreshing transformation.
2. Surface problems
Regular maintenance is beneficial to businesses because it allows them to determine if there is something that needs to be fixed and/or modified. Check the walls for any signs of fading, peeling, cracking and many other common surface issues. Imagine if you ignore your business and leave it like this, do not expect that customers and investors would want to visit it. That's why you should maintain an impressive appearance of your business, inside and out. Make sure that the painting contractor you hire does the cleaning and preparation of the surfaces before starting to paint the walls.
3. The walls are too dirty
Commercial buildings are usually situated in the heart of a community, town or city which makes them more exposed to people traffic. Also, commercial buildings are more prone to pollution as well as various weather conditions. All these factors make the walls really dirty in the long run. There may be no need for a general repainting if the surfaces have been cleaned regularly. But if the walls are too dirty that they cannot be cleaned even by the strongest solvents, the last feasible option is to have them repainted. This will make your business establishment looking good, clean and brand new once again. Of course, as with other painting jobs, a good clean up, repair, and preparation of the surfaces are required before starting to paint them.
4. The choice of contractors
How long should your paint last also depend on the type of commercial painting contractors you have chosen and hired to paint your business. So, if you hire a contractor that is experienced, licensed, insured, bonded, professional, has the right paints and tools and employs his own workers, you won't have to repaint that too often.
Try to choose the best commercial painters in Pleasanton who will make an exceptional and amazing paint finish that will last for a long time (usually five to ten years, or even longer).