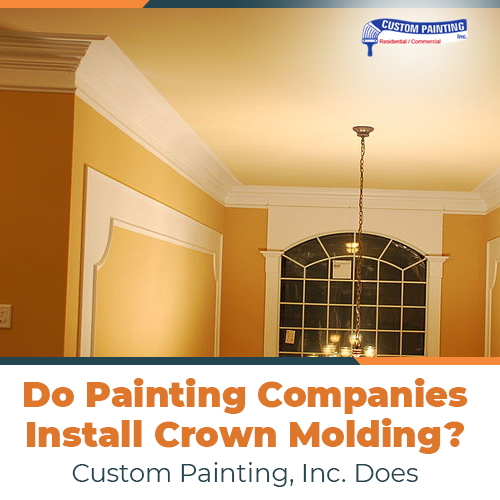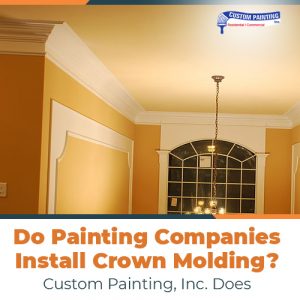 There are many ways to update and redesign your home's interiors, but crown molding is one of the most effective. It doesn't seem like much, but these decorative architectural pieces can make an ordinary room look more visually appealing. But you may ask, "Do painting companies install crown molding?" The answer is yes – in fact, many paint service companies in and around the Bay Area install crown molding in homes. 
Crown molding can be an elegant addition to any home. It can add contrast and visual interest and make the room look more finished. 
But they're not the only advantages that crown molding offers. It plays a crucial architectural role in conventional interior design. It can hide surface imperfections, add character and depth to your room, and increase your home's value. In addition to the traditional materials, notably wood and plaster, crown molding is now available in newer types like polyurethane, medium-density fireboard (MDF), and PVC, which are the more affordable, easier-to-install options.
Since crown molding comes in several sizes, materials, and designs, you must decide which crown molding will look best for your room. If your room is more formal (but not too formal), a simple and well-designed crown molding is far superior to an oversized and elaborate crown molding. The height of your room's ceiling can also decide the crown molding's size. For instance, rooms with 9-foot ceilings – the standard height – can accommodate a 3" to 7 ½ "and the addition of a picture mold. These larger crowns are usually "built-up" using two or more molding profiles. They are also called cornices. For ceilings that are 10 feet and higher, they need a larger crown molding to make a more significant visual impact.
Budget is also a concern, so you have to look for reasonably-priced options. There are stock and custom crown molding profiles. Between the two, stock profiles are the more affordable and available options. Custom profiles – which match an existing profile or create a new design – can cost more and take at least six weeks to produce.
When possible, it's way better to purchase one piece of crown molding to run the entire length of the room rather than buy shorter pieces. You want a seamless look for your crown molding as possible. It can be challenging to hide the joints if you try to save money by purchasing shorter pieces. It's best to measure the width of your room first before installing crown molding.
Crown molding can be painted or stained. How it should be painted or stained depends on the material. Polystyrene molding, for instance, needs two to three coats of paint to smooth out the surface texture sufficiently. PVC crown molding, on the other hand, is difficult to paint due to its slick surface. But PVC needs paint to hide the plastic sheen.
No matter what type, size, or profile of your crown molding, you should always paint or stain it before installing it. It will be more challenging to paint a newly installed crown molding as it can be prone to drips.
Custom Painting, Inc. offers crown molding installation
In addition to paint jobs, Custom Painting, Inc. offers custom crown molding installation to transform the look of your entire home. The best crown molding can dramatically improve and elevate your room's overall appearance.
If you want to have house painting done but would also like other custom work completed, contact Custom Painting, Inc. The team has the skills and experience to install crown molding and other custom installations like window casings, wainscoting, and box ceiling. 
The next time you ask, "Do painting companies install crown molding?" Many painting service companies may know this department, but not all of them may provide quality work. Custom Painting, Inc. has over 40 years of experience in the paint service industry. We have the knowledge, skills, and the right tools to install custom crown molding or any other custom work to elevate your home's interior design.