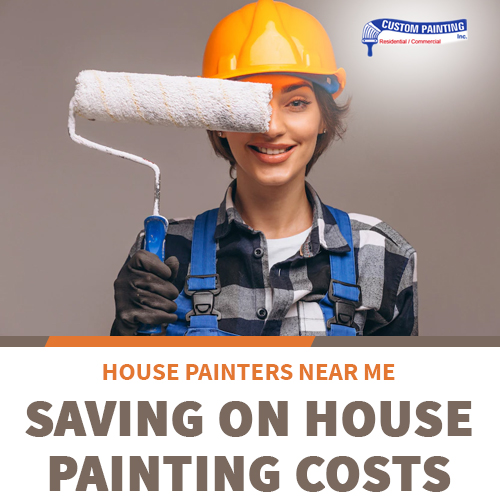 Painting is the easiest way to give your home a fresh update at a fraction of a cost of a significant makeover. While many people go the DIY route, hiring professional house painters near me has advantages. These advantages include benefiting from their seamless workmanship and the convenience of having a pro doing the work for you, saving you time and also saving you from the typical hassles of paintwork.
However, many homeowners still believe that painting a home is an expense. And it's unfortunate because they are still not aware of the benefits that a quality paint job brings. Hence, they do not wish to regularly paint their walls because they think it will make a massive dent in their pocket.
But instead of thinking of house painting as an expense, think of it as an investment. And it's still possible to get quality paintwork done without costing you a lot of money.
You're aware that the work of a professional painter is unparalleled. You desire a smooth, clean paint finish and seamless lines – you can distinguish between the result of a professional painter and the work of a DIY home painter.
While painting your home is never a walk in the park, you cannot avoid it. Especially as your home ages, it is more in need of repairs and repainting work.
Suppose you have professional painters scheduled to paint your home. You can still keep the cost of painting to a minimum while enjoying the benefits of a professionally painted home. How? By contributing directly to the project. The following tips are incredibly simple and do not require a particular skill.
Clear the area to be painted
As a homeowner, you can save time and money by getting your home ready for painting. First, remove anything hanging on the wall that you don't want to be painted around, such as framed artwork or photographs, hanging shelves, sconces, bulletin boards, etc. After removing these items, pack them away or store them in a place to keep them safe during painting.
Next, take the furniture out to another space. But if that's impossible, you may move the furniture to the middle of the room. Moving the furniture away from the area to be painted will make room for ladders, paint supplies, and tools and provide enough space for the painters to work safely and comfortably.
Do the prep work
Prepping is necessary for every paint job because the prep work involved often determines the results — a good paint finish results from the proper prep work.
To be sure:
Ask your painter first if there are any steps you can do to complete all the necessary prep steps. If your contractor is paid by the hour, you will save a significant amount of money by doing the prep work yourself.
Wipe down the walls with a clean rag or damp sponge. If the walls are oily or greasy, wash them with a solution made of grease-cutting detergent and water.
Rinse the walls thoroughly and let them dry.
Once dried, repair any cracks and holes with a spackling compound. Don't also forget to caulk any joints or gaps.
It may not be reasonable to tape off baseboards or trim by yourself, as professional painters usually follow a specific taping method to ensure clean lines or patterns.
You may or may not prime the surface depending on the type or condition of the walls. But if you have doubts about priming the walls yourself, it's best to leave that part to the pros.
Clean up after
After the painters finish their work, they may leave some paint spills or splatters on the floor. Most professional painters take great care not to make a mess, but there are times that they (accidentally) do. In that case, you have to clean up the mess by yourself. Fortunately, they're easy to clean, especially if the spilled or splattered paint has not dried yet.
Wipe up as much of the paint as you can with a damp cloth. If the paint has started to dry, use a putty knife to scrape it off. Then make a solution of one-half teaspoon of dishwashing soap and a cup of warm water in a spray bottle. Squirt the solution over the spill and wipe it until it's gone. For serious spills, use a wet vac to get rid of them, then spray the soapy solution over it and wipe the rest of the area up.
These are only a few tips to save money on your paint project, whether you're going the DIY way or hiring professional house painters near me. Should you go the DIY route, make sure that you have enough time to devote yourself to the project, have enough budget to buy quality paints and tools, and follow the proper techniques to achieve the results that are pretty close to the work of a professional painter.