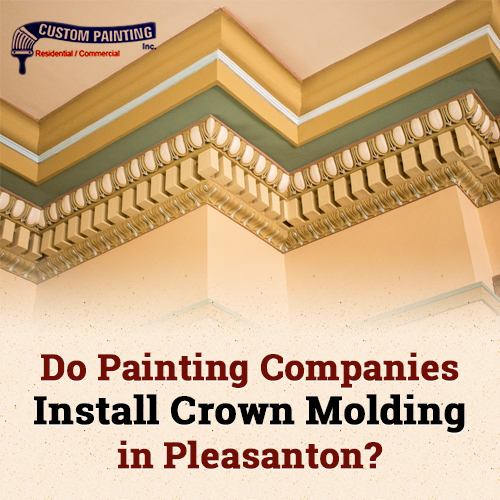 If you're convinced that all painting companies do is just, well, painting, it's better to explore the painting contractors in your area. They're likely to offer other home improvement services. For instance, several residential painting companies install crown molding in Pleasanton, while some offer additional services, like pressure washing or specialty coatings.
Many homeowners want to elevate the look of their interiors but also want more than the typical changing of the color scheme. They may choose to add crown molding.
In addition to providing some elegance, crown molding increases height and creates a more "finished" look to your room. When appropriately installed, crown molding can increase the value of your home. Crown molding's extraordinary visual appeal makes it a popular decor choice among many homeowners.
The type and style of crown molding you choose should correspond to the architectural style of your home. Below are some of the most common types of crown molding:
Solid wood – Solid wood is one of the most popular choices for crown molding. Praised for its variety, solid wood is available in various colors and options and can be easily painted or stained. The pricing depends on the type of wood; the rarer and more exotic the wood, the pricier.
Plaster – Plaster is considered the "king" of crown molding. It's the best choice for high-end and high-style home improvement projects. It's highly customizable and can be formed into different shapes and styles (such as the intricate rococo style, for example). Plaster crown molding will add a luxurious touch to your high ceilings and grand interiors. As you might expect, plaster is one of the more expensive options.
PVC – Unlike solid wood, PVC crown molding doesn't rot or warp due to moisture. PVC molding is the best option for humid climates, or areas in your home with high humidity, such as the bathroom. It's also affordable compared to other crown molding types.
Flex – Flex crown molding is the solution for homes with curvy walls and bay windows. Because flex is rubbery, it bends easily around a curved wall without needing relief cuts.
Polyurethane – If you're looking for elaborate designs but find plaster is over your budget, choose the polyurethane crown molding. This reasonably-priced and versatile option works in most installations, resists well against pests and rotting, and can be easily painted and stained. Polyurethane can even mimic intricate plaster-like profiles.
Polystyrene foam – If you still insist on DIY-ing things in your home, polystyrene foam crown molding is ideal for a quick and instant room redesign that's perfect for low-budget home makeovers. All you need is a cutter or a pair of scissors and construction adhesive.
Custom Painting, Inc. has over 40 years of improving and beautifying homes and commercial spaces and can help you transform the look of one room or your entire home. In addition to painting, we offer other services like custom crown molding installation.
The right crown molding can make a dramatic improvement to your home. If you have decided to have your home's interior repainted and added with crown molding and need professional help, we're up to the task. Are you having trouble choosing the right crown molding type and design? We can also help you to decide on the right crown molding that adds more beauty to your interiors without making a big dent in your budget.
Hiring Custom Painting, Inc. can also save you money because you won't have to hire two separate companies. You can hire only one painting company to install crown molding and paint your house. We're licensed, bonded, and insured; our goal is always to make your home look more beautiful and protected against the elements. If you want one company to paint your home and install custom crown molding, contact Custom Painting, Inc. for your next home makeover project! Our estimate is always free.