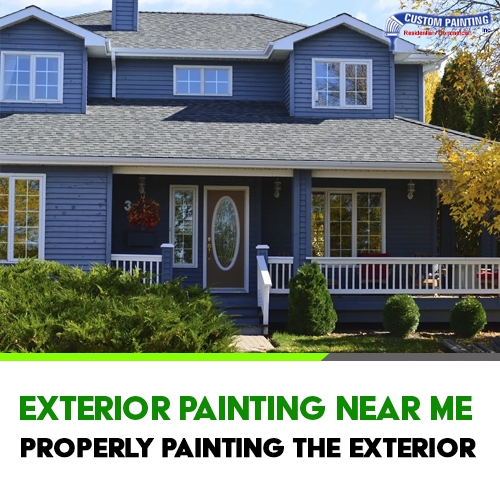 Proper exterior painting near me is more than choosing the right paint colors and finishes. Most importantly, it's in the correct prep work. No matter how good the quality of your paint is, it won't stick to a dirty surface with lots of cracks and holes.
Surface prep for exterior surfaces is vital to your home's health and safety. It can also make the paint job durable, beautiful, and long-lasting. Prep work takes a large chunk of time for any paint project. So, unless you have the time, hire professionals who paint for a living. They devote all of their time to cleaning, repairing, and painting your home's exterior surface.
A properly prepared and beautifully painted exterior surface will make your house look good, increase its curb appeal, and give the surface a new layer of protection against the weather and insects.
Materials needed:
Exterior flat, exterior semi-gloss, or eggshell paint
Stain-blocking
Garden hose or pressure washer
Paint sprayer
Paintbrush
Epoxy filler
Spackle knife
Medium-grit sanding block
Exterior caulk
Caulk gun
Painter's tape
Drop cloths
Plastic sheeting
Ladder
Instructions:
Remove dirt, dust buildup, and contaminants from the surface using a garden hose or pressure washer. Start spraying your way from the top and then go all the way to the bottom, in a smooth and controlled manner, overlapping each stroke by eight (8) inches. Let the surface dry.
Inspect the surface for any damage. Apply epoxy filler to cracks and holes using a spackle knife. Let the epoxy filler dry. Once it has dried, sand it lightly using a medium-grit sanding block.
Inspect the surface again for any chipped or peeling paint. Place drop cloths along the ground to catch the debris. Then use a paint scraper or medium-grit sanding block to remove chipped or loose peeling paint.
If gaps are between the surface and trim around doors and windows, load the caulk gun with exterior caulk and fill those gaps. If your house has mixed materials (siding and brick, for example), fill the caulk along the surface where these materials meet.
Look around your house again for any stains or visible wood knots. Apply one coat of stain-blocking primer to affected areas using a paintbrush. Let the primer dry.
Protect doors, windows, and lighting fixtures by covering them with plastic sheeting and painter's tape.
Now, it's time to paint your home: load exterior flat, exterior semi-gloss, or eggshell paint into your paint sprayer. Then spray a coat or two coats of paint on the entire exterior of your house, depending on the paint's hue intensity. Like power-washing your exterior, work your way up from top to bottom in a smooth and controlled manner, overlapping every stroke by eight (8) inches.
Next, remove the plastic sheeting from doors, lighting fixtures, and trim. Using a paintbrush, apply two coats of exterior semi-gloss paint to doors, trim, and woodwork.
Remove the drop cloths. Now, your house looks good as new!
Additional tips and techniques:
When spraying paint, make sure the weather is stable. Avoid painting in windy conditions to reduce the chances of overspray. Besides, the wind can cause the paint to dry too fast or blow dirt into wet paint.
Always spray at the lowest pressure possible that atomizes the paint. One sure way to help you in this process is to warm your paint. Warming the paint will help it flow out of the sprayer more efficiently and require less pressure to spray an even coating effectively.
Avoid painting in direct sunlight. While the heat does help in drying the paint, extreme heat dries it too fast, making it almost impossible to hide lap marks. It can even cause peeling and blistering.
If your home was built before 1978, there's a very good chance that your home has lead paint. To test the paint for lead, hire an EPA-certified professional or risk assessor to inspect your home to determine whether it has at least a portion of lead-based paint and where it is situated. It will help you tell the areas in your home where lead-safe work practices will be used for repair, painting jobs, or renovation. Or, hire a professional to remove lead-based paint.
Remember that every hour you spend preparing your home's exterior surface will pay off with an excellent, flawless exterior painting near me paint job that will boost your home's curb appeal and last for many years.