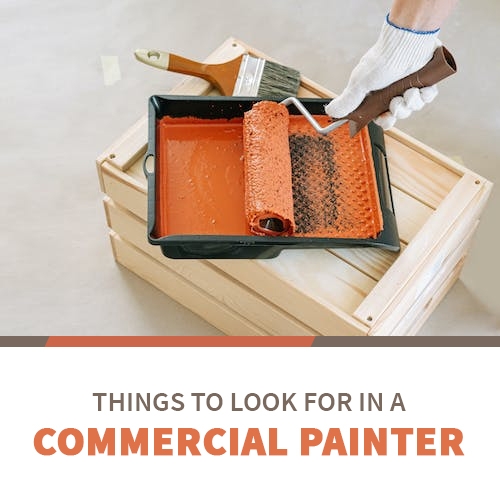 If you find a good commercial painting in Pleasanton contractor, consider yourself lucky. Contractors often get a bad reputation, but there's a good reason for that. Not every contractor is professional, forthright, and dependable. 
Yet, it's obviously impossible to paint your commercial property on your own, so there's no other choice but to hire someone who's skilled and experienced in commercial painting. However, you need someone you can trust to protect and beautify your commercial property, as it is your investment. 
Paint is the simplest yet has the most powerful impact on commercial space and its occupants and visitors. A fresh coat of paint with well-chosen colors will make your store, café, restaurant, office space, retail store, etc., more attractive and inviting to potential customers and investors. Not just that – it will also make you a standout among the competition. 
These are some of the many reasons why choosing the right commercial painter is important. This article explores the considerations and skills to look for when hiring someone who's qualified to paint your commercial building.
What to consider when hiring a commercial painter

Before agreeing to work with any commercial painter, there are some things you should look for:
Qualifications and experience – Experience is always the first and probably the most crucial factor to consider. If a painting contractor doesn't have sufficient skills and experience, then how could they paint your commercial property well?

Specialization and expertise – Compared to residential painting, which mostly consists of painting houses, commercial painting has more specialized jobs. These include brick waterproofing, masonry coating, metal painting, sealing, high-durability coating, stenciling, etc. Depending on your requirements, you should look for a contractor with expertise in these specialized services.

Materials and techniques – Commercial painting deals with different types of surfaces and various working conditions, so it requires the use of more complex equipment such as power washers, paint sprayers, sandblasters, scaffolds, mechanical lifts, etc. Commercial painting also deals with high-grade commercial- and industrial paints. Considering these matters, you should look for a painting contractor who is knowledgeable in using any of these materials and techniques.
Cost and budget – One sure way to know whether a painting contractor is right for your job is to request a detailed and transparent estimate. While reviewing their estimates, try to find the price that matches your budget and cross out other contractors who don't quite make the cut. While price alone should not be the deciding factor when hiring a paint contractor, it is a significant consideration.

Timelines and scheduling – Commercial painting is done according to the business owner's schedule and operations. So, you should look for a painting contractor who will respect your place of business. Custom Painting, Inc. understands that you still need to be able to keep your business open while we complete your project. Our team of painters is professional and knows how to work without causing disruptions in the business we serve.

Safety measures – Commercial painting projects usually deal with a large working environment and situations that often put the workers at risk of slipping, falling, etc. That's why you should look for a commercial painter who complies with safety regulations established by local and national governments and has undergone regular safety training.

Warranties and guarantees – If a painting contractor is confident in their work, then they won't hesitate to provide a written warranty or guarantee to their clients after the work is completed. For a period after work is complete, most reputable companies will correct their workmanship flaws or neglect. 

Contracts – You should consider a contractor who provides a written contract. Pay attention to what's in the contract as well. They may not itemize the list of materials they will use or skip some process steps, such as surface preparation or clean-up after painting. In addition, the contract should include contact details of the painting contractor, payment methods, terms and conditions, and any important details you and your contractor discussed on the job.
Skills to look for in a commercial painter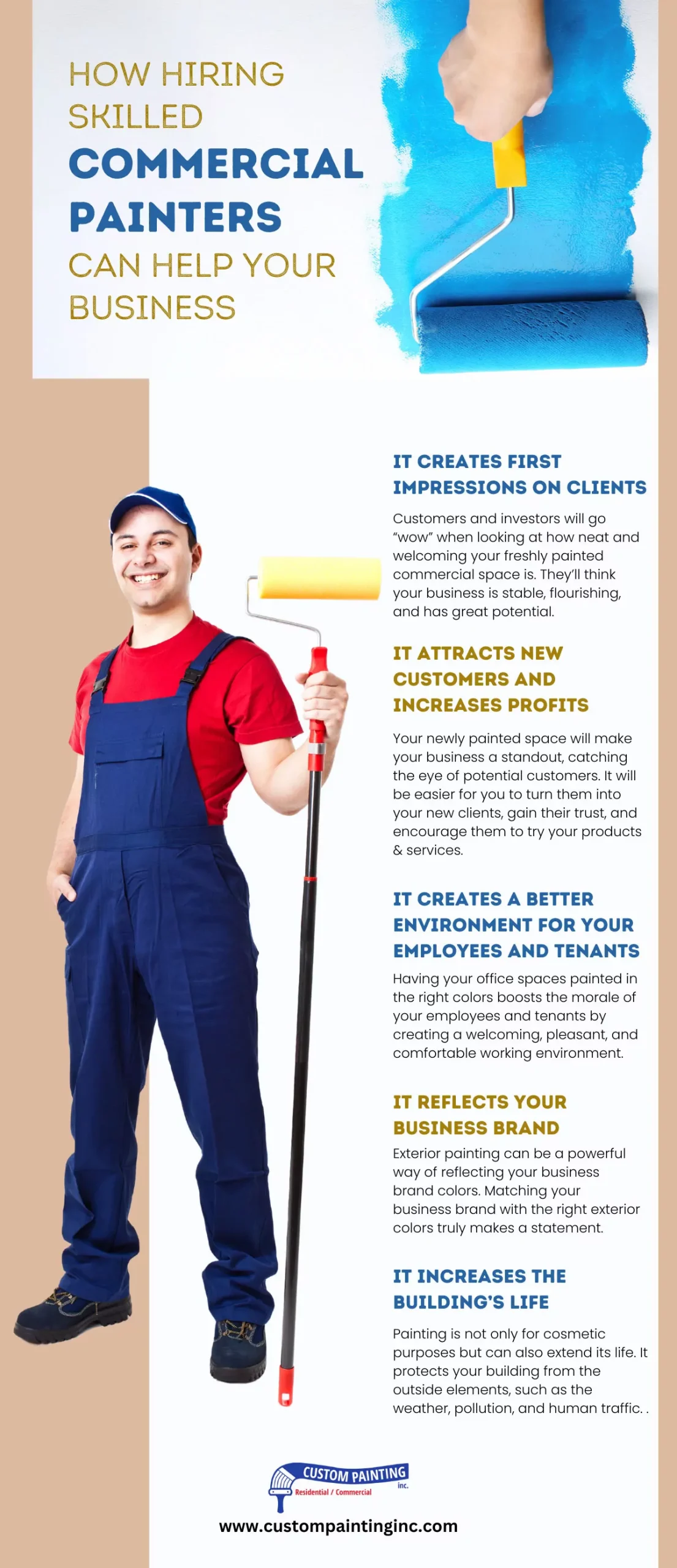 Here are some additional tips on how to hire the right commercial painters in Pleasanton based on their skills:
Ability to paint accurately – A commercial painting contractor calculates the amount of paint needed by measuring the wall space to be painted. This will help you know how many gallons of paint you're going to use for your project.

Carpentry skills – It makes sense to hire a paint crew who also has general carpentry skills, such as drywall repair, acoustic ceiling removal, wood rot repair and replacement, etc. Painters with carpentry skills are often in demand. These painters usually encounter flaws, such as cracks and holes in drywall, and they should have the carpentry skills to repair surfaces and restore their original appearance and integrity.

Ability to work accurately and with attention to time – Time management skills such as planning, prioritizing, and organization help painters meet deadlines. 

Knowledge of how to use tools and materials for the job – Commercial painting requires the use of special paints, tools, materials, and equipment that aren't usually found in residential painting. They range from power washers and scaffolds to mechanical lifts and airless paint sprayers. It's important to hire commercial painters in Pleasant Hill who have extensive knowledge of the use of these tools and materials.

Visual attention to detail – Professional painters always make sure that the surfaces are properly cleaned, prepared, and painted to achieve a high-quality and long-lasting finish. Even the minutest detail won't escape the eye of professional painters, so they will do touch-ups when necessary.

Ability to work on heights on a scaffold or lift – Working at heights is a normal part of commercial paint jobs. The paint crew must be sufficiently trained to be able to use ladders, scaffolds, platforms, or mechanical lifts to get them to hard-to-reach areas, such as high ceilings and tall buildings, safely and efficiently.

Ability to work with drywall – Drywall, especially new drywall, can be challenging to work with, especially new drywall. Due to its porosity and variance of texture between the paper coating and joint filling compounds, it can be difficult to achieve a good finish with drywall, resulting in uneven patches. So, make sure to hire commercial painters as they have experience in working with drywalls of various types and conditions.

Communication skills – Since they interact with people on a daily basis, commercial painters should also possess excellent communication skills. They must discuss the plans and details clearly with project managers, tradespeople, and other contractors who may be working on the same project and their clients who have no direct experience with commercial painting.

Basic knowledge of electricity – Commercial painters usually work close to live electrical lines and equipment, so they know how to protect themselves from electrical hazards. They should be sufficiently trained in terms of dealing with anything with electricity to enable them to perform tasks that require specific actions, such as shutting off the main power, removing and re-installing electric wires and cables, covering switches and outlets, operating generators for their power tools, etc. These basic electricity skills will enable them to complete their paint job safely and efficiently.

Knowledge of using spray painters – Spray painting is a common paint application technique in commercial painting. Compared to brushing or rolling, spray painting is a far quicker job that gives the surfaces a clean and smooth finish. However, this method is prone to overspray, so it requires the skills and experience of commercial painters who know how to use spray painters correctly.

Knowledge of using power washers or pressure washers – Power washers or pressure washers are very effective in getting rid of stubborn dirt, grease, mud, mold, mildew, and peeling paint. But if power washers are handled by someone who's inexperienced, they can break the siding and windows. They can even cause injury. Many commercial painters are also experts when it comes to power washing as they know how to operate them safely.

Ability to keep the work area clean during and after the work is complete – Not all painting contractors offer clean-up, so confirm that this step is included in your contractor's contract. They should be able to clean up after themselves and properly dispose of debris, used supplies, and hazardous waste properly.
Conclusion
Before you start looking for "painters Pleasanton" online, you should first consider what you need in a commercial painting contractor:
Qualifications and experience

Specialization and expertise

Materials and techniques

Cost and budget

Timelines and scheduling

Safety measures

Warranties and guarantees

Contracts
There can be a significant difference in how painting contractors work, but most of them have the following skills such as:
Ability to paint accurately

Carpentry skills

Ability to work accurately with attention to time

Knowledge of how to use tools and materials for the job

Visual attention to detail

Ability to work on heights on a scaffold

Communication skills

Basic knowledge of electricity

Knowledge of using spray painters

Knowledge of using power/pressure washers

Ability to keep the work area clean during and after the work is complete
When you work with quality painting contractors in Pleasanton, such as Custom Painting, Inc., we guarantee you a professionally done paint job that is durable, long-lasting, and beautiful.
Contact Custom Painting, Inc. today at 925-294-8062 or request a free estimate online. We will be glad to help!