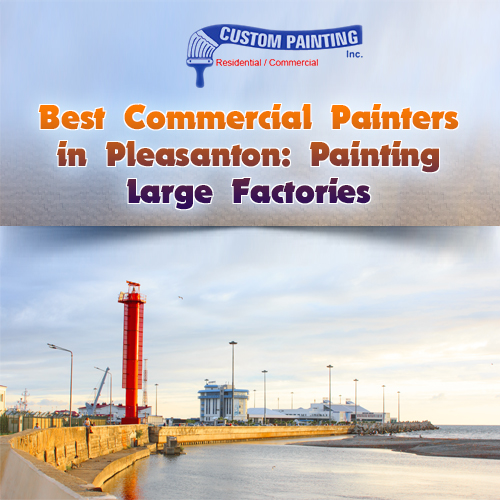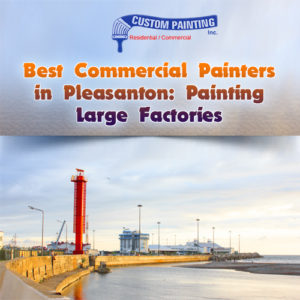 The best commercial painters in Pleasanton are trained to paint businesses, offices, and facilities – no job is too big or too small for them. They can also paint factories, plants, and warehouses, and you know that most of them are large structures. They seem intimidating, especially to inexperienced painters. But the best commercial painters have skills and years of experience, offer complete services and have the right equipment to enable them to do large-scale painting jobs fast, efficiently and safely.
Like many other painting projects, commercial painting contractors first conduct inspections and analyses on your factory, plant, warehouse or any similar facility. Then they will do an estimate on a job order. They will start this by figuring out the paint job cost, marking up the price so that they will make a tidy and reasonable profit, and finally charging their customers for the entire painting job – and that includes labor cost, cost of paints and cost of materials.
You can always rely on reputable painting contractors because they have the skills, experience and proper tools to paint your factory, warehouses and similar structures on time and within budget.
There is a wide range of factory structures that mentioning all of them would be impossible. But to give you a fair idea, here are some of the factory structures that commercial painters usually deal with:
Any painting job that deals with heights
Silo, water tower, and storage tank painting
Steelwork painting
Painting fences and containment walls
Painting factory machinery and equipment
Painting chimneys and incinerators
Pipework painting and maintenance
Painting gantries
Painting bridges, tunnels, and walkways
Painting parking lots and garages
Painting fascia
Painting gutters
Painting floors and applying epoxy resins
Maintenance painting jobs
… and a lot more!
Commercial and industrial painting is often a multi-faceted job. You cannot expect painters to use just one type of paint for different types of applications. Some paints are specially formulated for certain surfaces such as cement, steel, rubber and many more. For example, painters use anti-corrosion paints that protect metals from degradation due to moisture, rust or certain chemicals. Silicon paints are versatile as they can be applied to a variety of surfaces that range from concrete to steel.
Modern painting technologies have made commercial and industrial painting much easier, quicker and more cost-efficient. For instance, steel spray painting takes less than a day to finish compared to painting with a brush or a paint roller, but it provides a much smoother, more even and more durable finish without paint wastage.
Safety is always a top priority in each project, and its importance is more strongly emphasized when tackling factory painting jobs. Rely on experienced and reputable painting contractors to do the cleaning, prepping, priming and painting the surfaces not just to make the structures look good again, but most importantly, to provide them protection from certain elements such as heat, moisture, smoke, fire, and chemicals.
With a project as complex as painting factory painting structures, it will put one at higher risk of accidents and exposure to toxic chemicals, especially if they do not meet the proper safety standards. Therefore, it requires the work of experienced painters who also receive regular safety training and are equipped with high-quality safety gears. Any painting contractor that meets the safety standards of reputable agencies (such as OSHA), as well as of the factory itself, are the ones you should hire. If you're looking for the best commercial painters in Pleasanton, contact Custom Painting, Inc. at 925-271-4745 or by filling out our form at https://www.custompaintinginc.com/contact.aspx.
With these abovementioned attributes, the best commercial painters in Pleasanton become able and competent to work in a variety of industry sectors. Some of these include aerospace, agriculture, automotive, chemical, construction, engineering, food and beverage, marine and shipbuilding, pharmaceutical, utilities and a lot more.