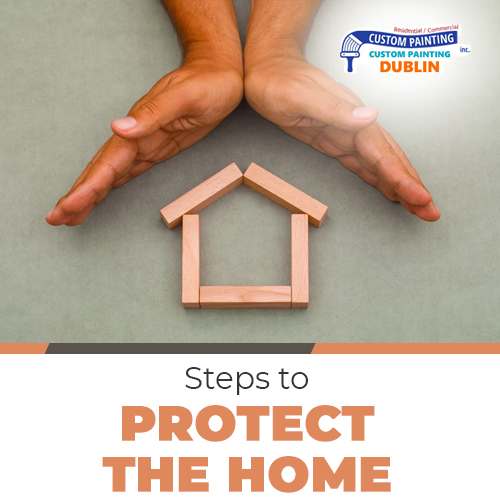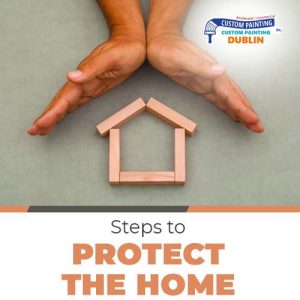 Suppose you have hired a professional house painting in Pleasanton, CA contractor to paint the interiors of your home. In that case, you may be amazed at how they can work quickly without knocking over a gallon of paint or leaving paint drips on baseboards. Their ability to paint quickly is because it is their job, and they have spent many hours learning to ply their skill without major painting issues.
Homeowners may not have the expertise and finesse of professional painters. However, there are crucial steps they can take to protect their home when painting, whether they're going to DIY the job or hire a professional painter. And best of all, these steps require very little skill – anybody can prepare a worksite for painting if they understand the needs and then work to complete them.
Remove as many items as possible.
Everything that's not supposed to be painted should be removed or covered. It goes without saying that the more items you can remove from your room, the easier it will be to paint it. Having ample space for painting also means you are less likely to trip over furniture and other stuff in the way. Less stuff also means less chance of dripping paint on it.
Cover your items.
Some furnishings are too cumbersome to move from room and room. For this reason, you can relocate them to one side or the center of the room if you have space to work around them. Then, cover your furniture with clear plastic sheets, dust sheets, or drop cloths.
Some furnishings are deemed impossible to move because they are either too heavy or bolted down to the floor. Therefore, the only option is to cover them entirely with clear plastic sheets or fabric drop cloths.
Cover floors
Floors are probably the most susceptible to drips and spills when it comes to interior painting in Pleasanton. Painting tall walls and ceilings can be quite bothersome, especially for novice painters, resulting in paint dripping onto the floor.
To address this problem, cover your flooring with canvas drop cloths. They may cost a lot, but they provide the best way to keep paints off the floor without causing safety hazards, such as slipping. Plastic covering may offer decent protection to your flooring, but it can cause accidents.
After laying down your canvas drop cloth, tape it to the corners to keep it in place and prevent it from moving while you paint.
You can also use rosin paper, a heavy-duty type of paper that can be used to protect floors. Tape rosin paper sheets together, then tape the perimeter to the floor. Make sure to clean your floors before laying down rosin paper sheets. If you don't clean the floors, the dirt underneath can lead to scratches on the rosin paper.
Remove switch plates and outlet covers.
Unscrew the switch plates and outlet covers and store the plates and their screws in a bag or box. This task may seem like a pain, but trust us – it will make painting certain areas much more straightforward. If you have different size switch plates or outlet covers and are painting several rooms, it would be good to label the container with the room so you don't have to search for them when it's time to replace them.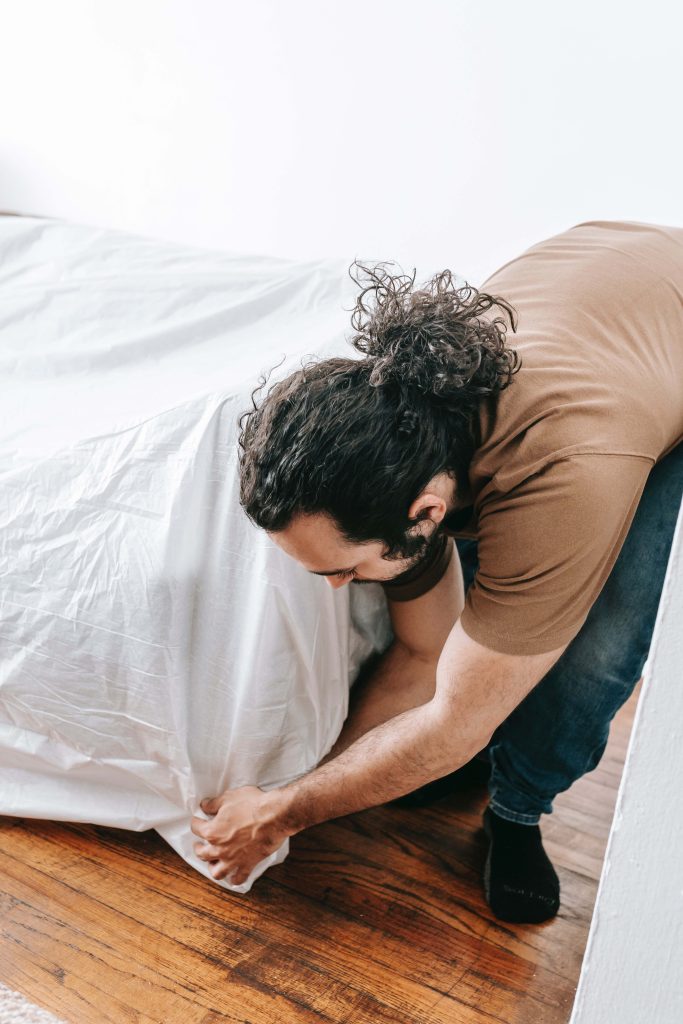 Tape when necessary
Many professional painters don't use painter's tape when cutting in lines and taping along baseboards and trim while painting. They don't because they have the skill to do it without the tape. But taping should be necessary if you are inexperienced or lack a steady hand.
We know you are tempted to use masking tape for the job. But a painter's tape is specifically made for construction and painting jobs – it will make a big difference. They do an excellent job of sticking where you need them to, giving you clean and crisp lines.
The painter's tape you will need to use is ScotchBlue Original Multi-Surface Painter's Tape. This medium adhesion tape is commonly used for home painting projects. While it is more expensive than the standard masking tape, the ScotchBlue painter's tape is worth the cost as it has high-quality adhesive properties, giving you clean and sharp lines without leaving any residue behind. Despite its tackiness, the painter's tape is easy to remove.
Keep a damp cloth handy.
Even experienced painters make mistakes. Drips and spills are sometimes inevitable, finding themselves in unexpected places. Keeping a damp cloth handy is a secret to a great-looking paint job. Use it to clean those drips and spills up as they happen. Cleaning dripped, spilled, and splattered paint is much easier when wet than scraping dry paint and repainting later.
Benefits of prepping an interior space for painting
Protecting your valuables and belongings and preparing the work site are essential steps in any painting project. Professional painters know the importance of prep work, which is the key to a successful paint job. Protecting your home will help in minimizing risks while making your home look great.
So, what can happen when a home is not protected and prepped prior to painting? Well, it can lead to unpleasant consequences. Paint dripping on furniture or spilling on floors can cause you to spend over your budget to fix a poor painting job. Depending on the paint type, you may need to have the furniture professionally cleaned or replaced.
Hire only professional, licensed, and insured interior paint contractors, such as Custom Painting, Inc, to get the best results. We will provide a spotless paint job, always!
Need a painting contractor for your next interior house painting project?
Contact Custom Painting, Inc. for reliable and impeccable painting services. From the initial assessment of your property to protecting surfaces to the final cleanup, we strive only for the best in everything we do. Talk to our Custom Painting, Inc. team at (510) 795-0903 or message them to get a free quote for your next interior painting in Pleasanton, CA project.