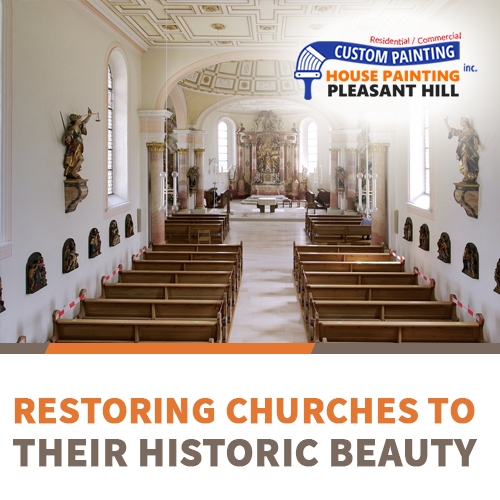 When you're preparing to paint a place of worship or sanctuary, such as a historic church, there are many factors to consider during the planning phase. Churches are beautiful sights, and the much older churches are regarded as architectural and historical treasures. 
That said, painting churches has unique challenges – and even so, restoring them to their original appearance as much as possible. While you're still in the planning stage, hire commercial painters in Pleasanton with experience in painting churches to make the process a lot smoother.
The importance of restoring and updating church facilities (without losing their history)
Churches encourage worship and build a sense of community. However, only a few churches are willing to go under restoration. Practical concerns like funds are the chief reason, but the fear of losing a church's history is another hindering factor. Especially for churches built centuries ago, preserving their history should be something to be concerned about.
Fortunately, you don't need to throw out your church's historical features to modernize it. You can highlight your church's most important historical features and replace other features to enhance its appearance and functionality.
Here are the benefits of updating your church facilities:
To add more valuable functions – Some updates are meant to add or improve a church's functionality, including restructuring the pulpit or expanding the space to accommodate more parishioners.

To repair and restore worn features – A church, or any place of worship, should have an uplifting atmosphere.

If your church's other features or elements have begun to lose their original beauty, repair and restore them so they will become beautiful again as they once were.

Repairs and renovations may differ according to the specifications and needs of the church, which may include restoration of the church pews and pulpit.

To make the church more up-to-date – Another reason for updating the look and feel of your church is to engage with modern design elements, which the younger members of the congregation tend to prefer. The good news is that you don't have to reject the original features to make your traditional church more modern. You can add some contemporary touches that freshen the look and atmosphere of your church and, at the same time, preserve the original elements that serve as beautiful reminders of the church's founding. 
Updating your church facility
There are many ways to improve your church facility without committing to a major renovation. Inspect your church and see which aspects require a makeover.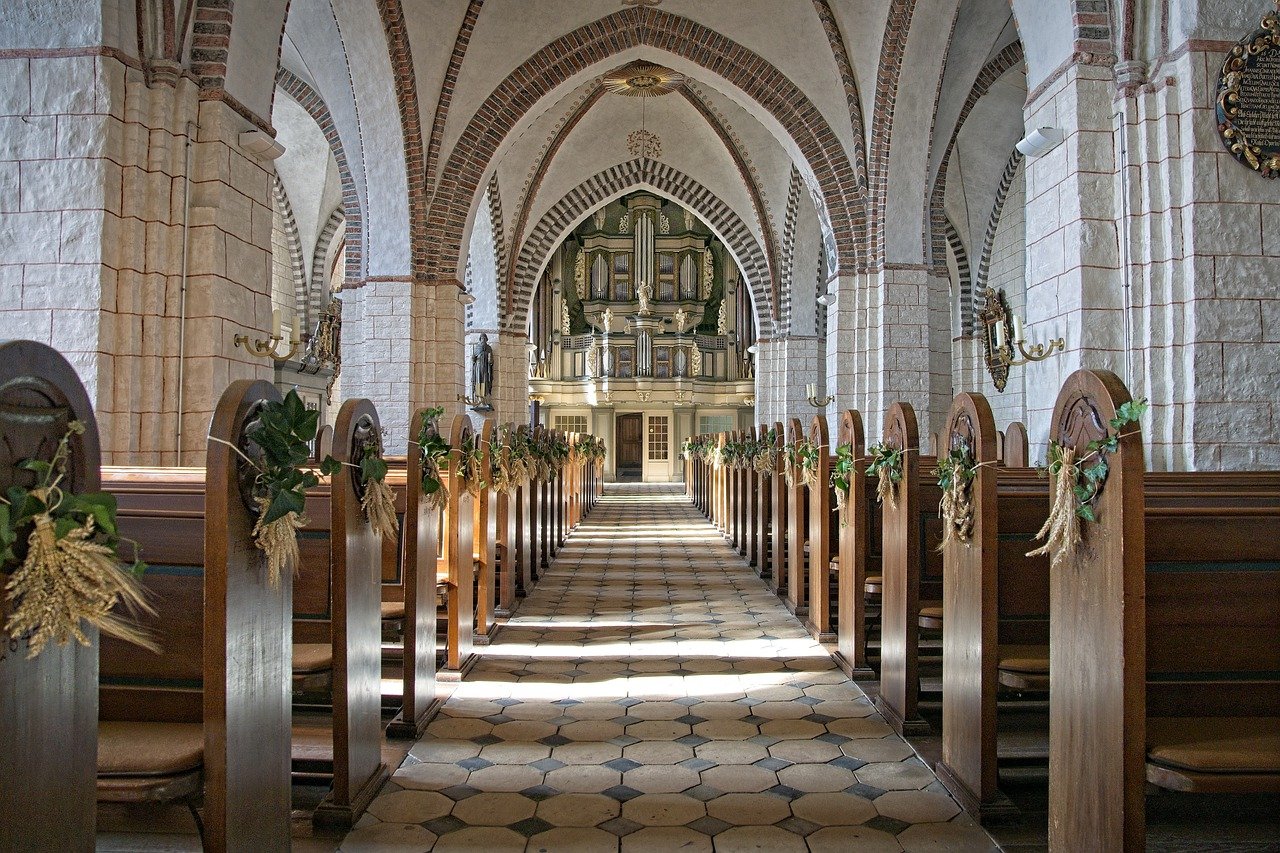 1) Repaint the walls
A fresh coat of paint makes a big difference to any space. Even if you choose to keep the same wall color you had, a fresh coat of paint is a great and cost-effective way to spruce up a church facility. 
If you want to make a difference, choose a new color for the church walls, but it's also important to know what the church property owners want for the space. Most churches prefer light neutral colors like whites, beiges, and creams, since they reflect light, making the room seem bright.
To get the best results, hire only the best painting contractors in Pleasanton with experience in painting church walls. 
2) Repair and restore church furniture
Churches are usually equipped with wooden pews installed over the years, most likely since the churches' founding. Some people may suggest replacing these old pews with newer ones or even with new chairs, and you may be tempted to do so since these pews may look battered and worn out. 
But if you want to preserve the history of your church, keeping the pews may be a great way to do so. They may only need repairs and refinishing to restore their original look and beauty. Some companies specialize in preserving old church furniture. They can restore, repaint, and refinish your church pews, returning them back to their original appearance and beauty.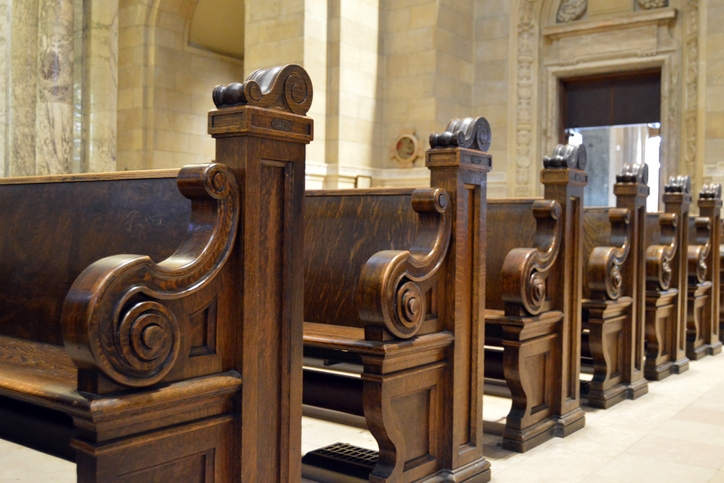 Many pews and other church furniture feature upholstery, so you may want to change those padded cushions if worn or simply change the color to give them a brand-new look.
3) Replace flooring
The flooring is usually as old as the founding of the church itself. In the case of historic churches, the flooring may have been worn out due to temperature changes and foot traffic. 
Some sections of the floor, such as the pathway leading up to the altar, are laid with a carpet runner, while in other places of worship, the floor is entirely covered with a carpet. The carpet is popular among churches as it dampens sound, allowing people to walk without making a noise or disturbance. If the carpeting has faded colors or is worn out, it may be easier to replace them. A darker color is preferred when selecting a new carpet, as it can conceal stains and wear and tear.
If you want to install hard flooring with a carpet runner, you may choose from polished concrete, hardwood, or tile. Older churches may find exquisite hardwood hiding beneath the carpet or other flooring installed over many decades or centuries. Refinishing the flooring will give your church facility an updated look and bring out its historical glory.
4) Install new lighting
Lighting is an important element inside a church. Aside from allowing people to see properly, proper lighting creates an atmosphere for worship, prayer, and other religious rituals. While natural light illuminates the interiors, you can enhance the lighting by updating it with the proper light fixtures.
When choosing lighting fixtures, you will have to consider the church's overall look, its furniture, and other elements. Lighting fixtures come in a wide range of brightness, sizes, and designs, so choose the ones that match the church's overall design. You can go for minimalist recessed lighting or lighting with more opulent designs (that can double as décor). 
For churches that don't have sufficient natural light or don't include windows, indoor lighting may be the sole source of illumination. You may also want to switch to energy-saving lighting fixtures or lighting fixtures that cast a brighter or warmer glow, depending on the church's specific needs. You may also want to install dimmers to have more control over the brightness and set a specific mood.
Scheduling issues
Churches are usually busy places. Many churches hold numerous services throughout the week, and it's almost impossible to cancel them. 
If you are a pastor or anyone managing a church looking for repainting and restoration work, hire the best painters near me. They should be able to work with you to find a schedule that allows them to paint and is also suitable for your congregation. Finding a painting contractor who can provide you with a specific time estimate is important. It will give you an idea about the project's start and end dates, after which your church should return to normal activities.
For more information about how the experts at Custom Painting, Inc. can help work with you to paint and restore your church, contact our personnel today!