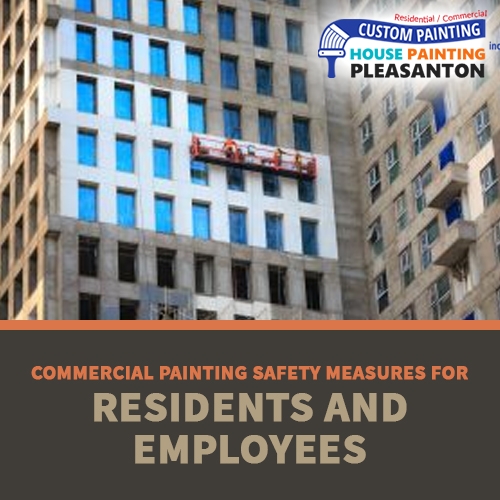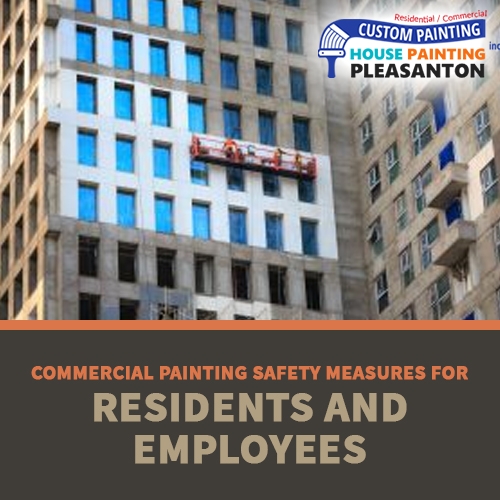 It requires strategic planning, coordination, and guidelines to prepare a multi-tenant building for exterior painting. Hiring a trustworthy painting company, like Custom Painting, Inc., ensures that the job is done properly and professionally. However, even commercial painting companies face certain challenges during the painting process. For instance, commercial or residential buildings in Pleasanton, CA, may not pause their operations for exterior painting purposes, so the management is required to search for other ways to do their job while keeping the employees and the internal building safe. There are several ways to overcome these obstacles that you will learn later in the post.
Building Features
Before starting the exterior building painting, a thorough inspection is significant to determine the quantity of paint required and the possible risks involved. The complex is spread over 8.38 acres, consisting of 190 independent and 60 to 65 assisted living units.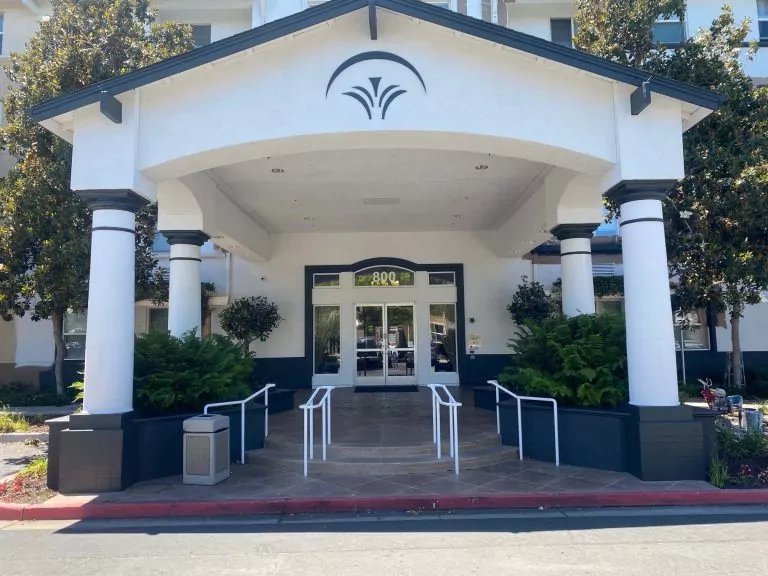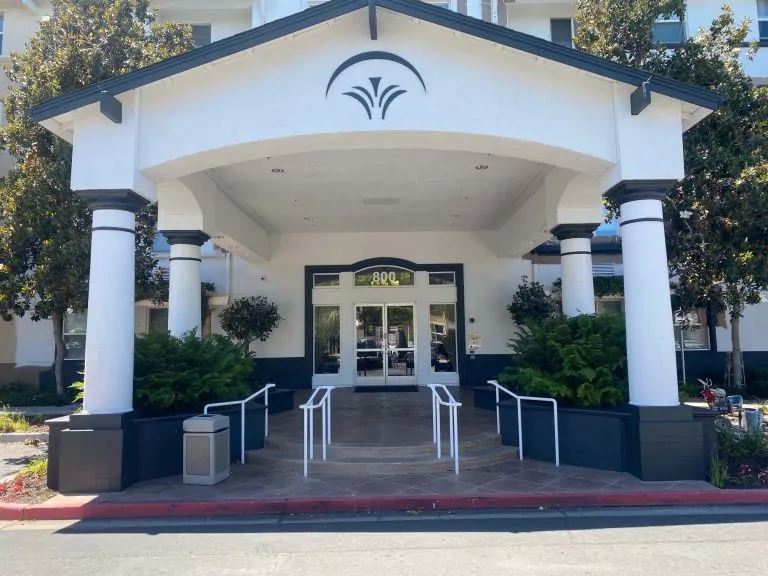 Balconies and Patios
The senior apartment building appears as a square with a missing side upon viewing from the top. There are around 20 balconies and patios in the complex.
Stories
The building consists of 4 stories, each around 9 to 11 feet high. In some areas, however, stories are as high as 13 feet. 
Railings
Metal railings are used in the building to ensure maximum security and safety. 
Color Scheme
The building featured white walls before the start of the painting project. However, dark colors were used for painting the roof, railing, fascia, and trim.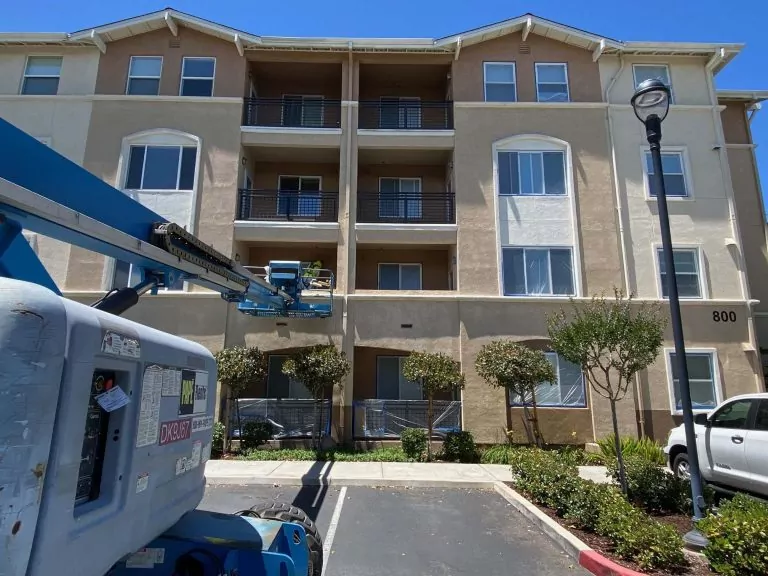 The Painting Process
The common purposes of painting include surface protection against weather conditions, insects, sun rays, etc. Moreover, professionally painted surfaces increase visual attractiveness and are easy to clean.
 A team of 8 to 15 painters is hired to finish the project in a given time. For a smooth paint application, airlines pump sprayer is utilized.
Type of Paint
The selection of paint is as important as the color itself because it can have a great impact on the character of a space and the quality of the painting job. Sherwin-Williams A-100 flat is used on stucco walls, while Sherwin-Williams DTM (direct-to-metal) is utilized to paint metal balcony railings. Almost 3,500 gallons of paint are used during the whole painting process.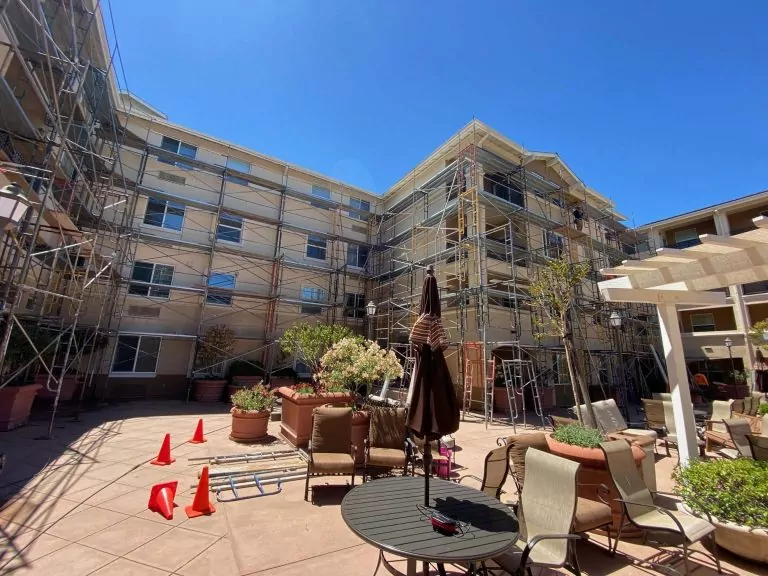 Main Challenges and Concerns
Accessing buildings with multiple stories for painting purposes is definitely challenging. Here are a few common issues that are faced by the employees and residents. 
Specific equipment needed to access high buildings, such as extension ladders, cranes,

scaffolding

, and more. 

Specialized commercial contractors are required to use this equipment. 

Tall buildings are visible from a distance, and every property owner would want their building to look aesthetic from every view. Hence, painters need to put extra effort into detailing while working at a high level.

Pollution is another risk involved while painting on high buildings. The amount of dirt and pollution at height is much more significant, which can affect the painter's health. 

Besides, weather conditions are also extreme at the top. Rain and wind can cause harm to the painter while using equipment during the process.

It is always hard to restrict public movement completely in the work area, especially if you are painting only the exterior of a building. 
Considerations to Overcome Challenges
For Employees 
Here are a few safety tips for commercial painters to protect them from injuries, mishaps, and health issues.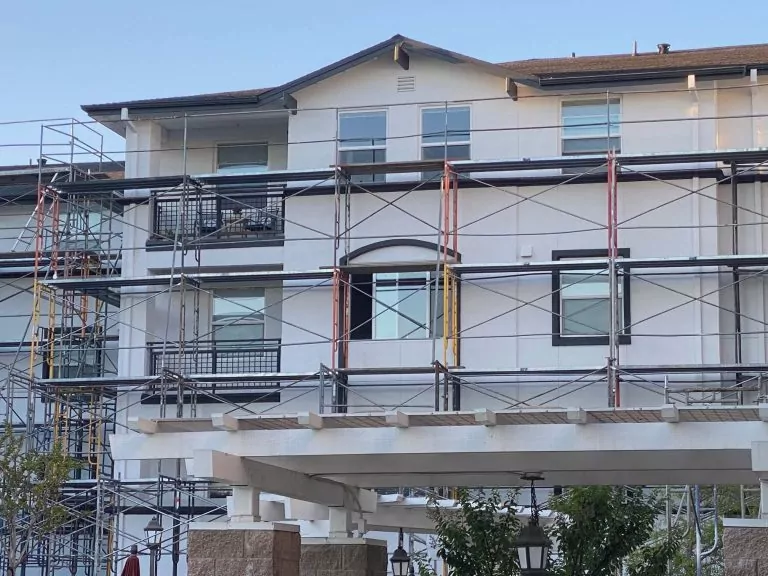 Clear Work Area
Make sure the area you will be working on is clean and free from clutter. Discard anything that you will not need in the process. This will help the workers to move freely and effectively use the equipment, like ladders, cranes, etc.
Wear Appropriate Clothes
Poor-fitted clothes can create a tipping hazard or may disturb the workers while painting. Also, spare clothes should be used for painting as the paint drippings may ruin it.
Be Cautious of the Electricity 
While painting around the wires or electrical fixtures, it is suggested to turn off the electricity source to prevent any accidents.
Use Flammable Paint Carefully 
Flammable paints and products should be kept away from any kind of hot surfaces or heating vents. While working in the sunlight, place the paints in the shade.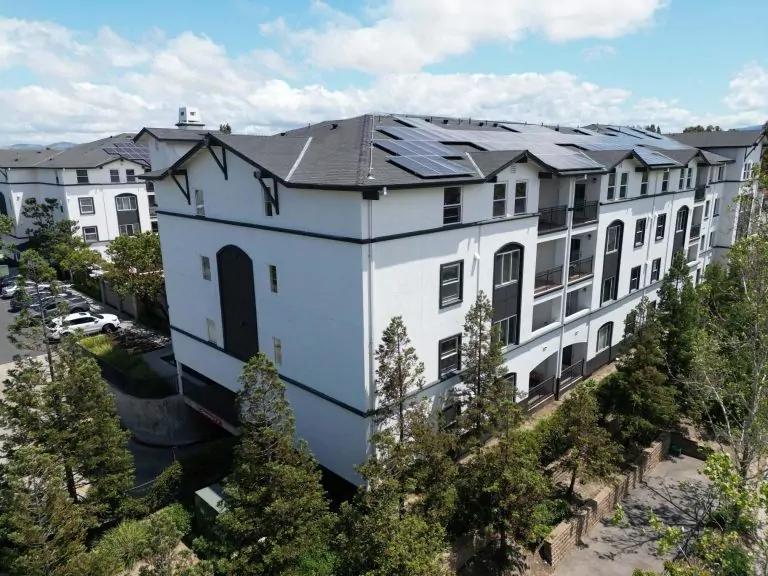 Ventilation is Important 
While working with water-based paints, keep the windows open if you are in an enclosed space. On the other hand, if you are outdoors, make sure the ventilation is good in the area, as it may suffocate you.
Secure Ladders
Always check the ladders thoroughly before using them. Ensure to place them on an even surface or secure them with ropes or wires for further security. 
Use Personal Protective Equipment 
It is important to use PPE (Personal Protective Equipment), especially while painting at a high level. For example, wearing gloves, face shields, goggles, face masks, shoe covers, protective hats, etc. Moreover, don't forget to keep the fire extinguisher near the working area.
For Pedestrians/Residents 
To prevent accidents and overcrowding, you would need some sort of crowd control. It will help you organize and run the event without any disturbance by stopping people from accessing restricted areas.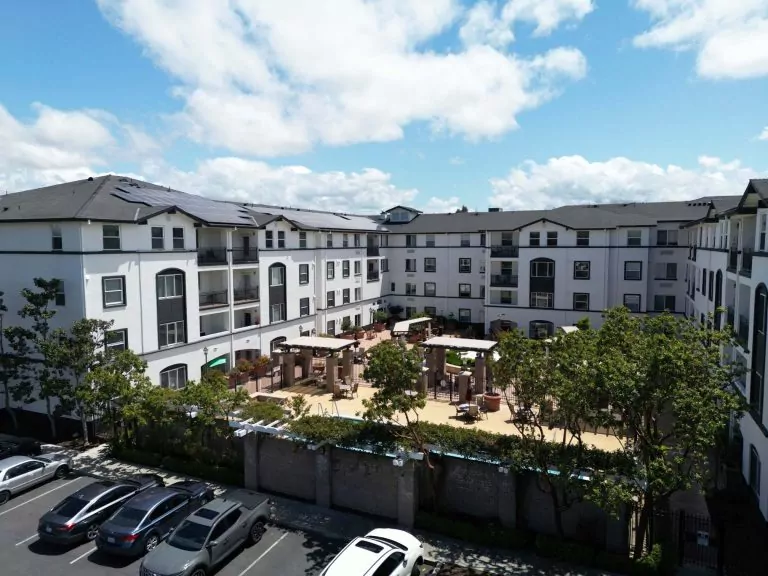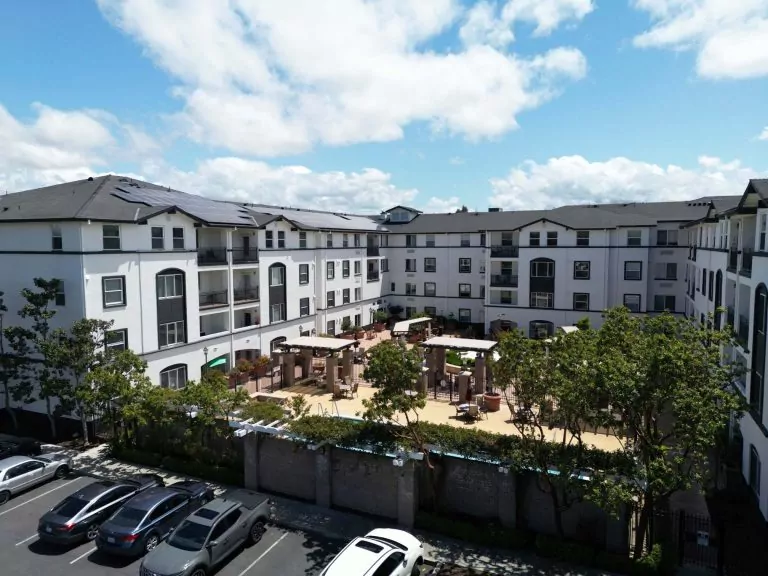 Use of Pedestrians Barriers
A crowd control barrier is a great solution to ensure the crowd's safety in the premises of your work area. Depending on the need, it can be a temporary or permanent solution. Through barriers, you can create a route for the employees and pedestrians to walk in or out of the building. Moreover, if required, you can easily re-assemble or remove the obstacles to create a diversion.
Proper Lighting 
A lot of commercial properties are functional 24 hours a day. In such situations, proper lighting should be around the passage to prevent any inconvenience. Poor visibility is one of the leading causes of accidents on commercial properties. Ensure that the lights are installed at an equal distance so that employees don't go through any patch of darkness.
Add Signs to the Work Area 
Barriers and lightning can make movements safer for pedestrians, but these solutions are only effective if they know where they are heading. Adding permanent signs around the building will help them indicate the main areas. For instance, you can add signage showing main areas like reception, waiting hall, etc.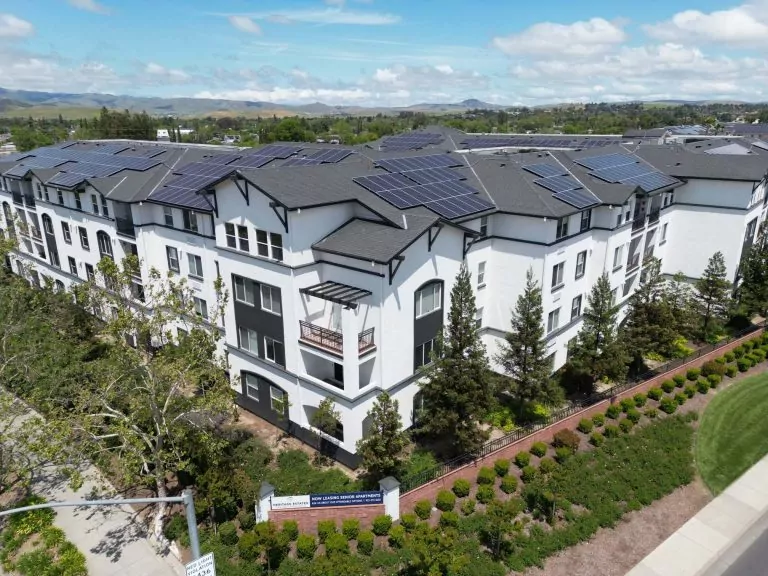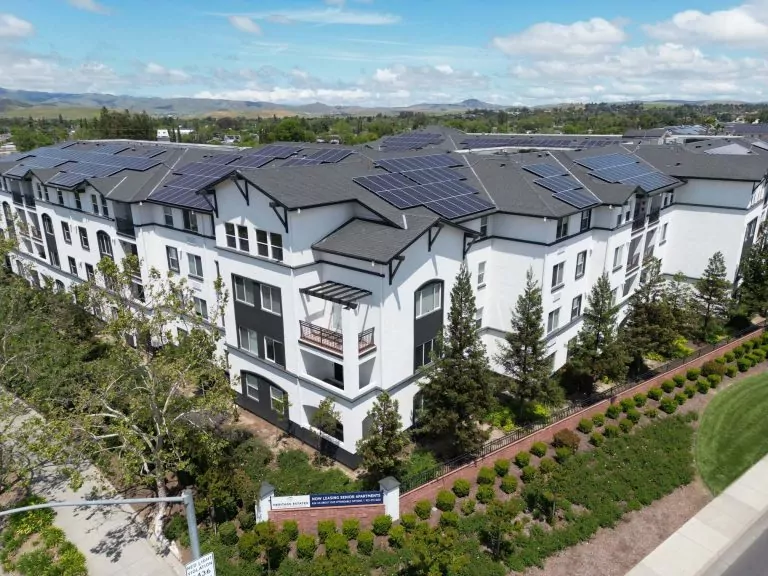 Conclusion
Hiring any painter for a multi-tenant building may save you a few bucks. However, many risks are involved in the process that are not worth your savings. On the other hand, experienced professionals, like Custom Painting Inc., can do the job in an organized manner while taking care of the residents/employees and the workers. Professional paint companies have competent workers who can finish the project quickly and neatly. Contact us at 510-795-0903 to schedule a walkthrough of your property and get a free quote.